Good For The Jews: Irreverent Hanukkah Songs
Good For The Jews: Irreverent Hanukkah Songs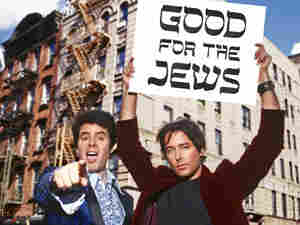 Walk into any store or turn on any radio station this time of year, and you're sure to hear a Christmas song — or seven. But it's often difficult to find Hanukkah music worth hearing or remembering. Over the last few years, however, the music duo Good for the Jews has taken it upon itself to change that. With an irreverent song repertoire that includes "They Tried to Kill Us" and "Good to Be a Jew at Christmas," Good for the Jews' music provides snarky, funny commentary on Jewish pride and culture.
Good for the Jews features Rob Tannenbaum, music editor for Blender magazine and creator of the VH1 special So Jewtastic, and singer-guitarist David Fagin, leader of the power-pop band The Rosenbergs.
To hear the full interview and get a taste of the duo's comedic tunes, click on the "Listen" link above.
Related NPR Stories
Web Resources