Coal Ash May Pose Health Hazard
Coal Ash May Pose Health Hazard
As cleanup continues on the giant sludge spill from a Tennessee coal plant, government officials are trying to figure out how much of a disaster it is. It could pose a hazard to people and the environment.
ROBERT SIEGEL, host:
And we turn now to NPR health correspondent Joanne Silberner to learn what this huge spill may mean for people who live in the region. Joanne, the spill is vast. How big a health threat is it to people?
JOANNE SILBERNER: Well, it really depends on what's in the ash. The ash is what is left over after you burn coal; it's that sludgy stuff. But one of the things in there is heavy metals. These are things like arsenic, mercury, cadmium, lead, selenium. None of these things are good. They can have some pretty serious effects when they get into humans. They can cause cancer, kidney problems, nervous-system diseases, but it all depends on how much is in the ash, and that depends to start with, with the coal itself. It can vary a lot from one lot of coal to another.
Now, if the heavy metal sticks to the ash, stays with the ash, then it may not be so bad because that can be filtered out pretty easily. If it gets into the water, into the drinking water, and the heavy metal leaches out of the ash that can be hard to deal with. Now, we've got the TVA, as Tamara said, saying we've done some measurements. It looks good. We're waiting really for the EPA and the state to come out with their measurements to really say, it might be bad; it might not. But it really depends on those measurements.
SIEGEL: What about other environmental effects, say, for wildlife?
SILBERNER: Well, there have been reports of a fish kill, and given that it was so fast after the event, chances are that it was probably just the straight sludge suffocating the fish.
SIEGEL: It's like a tidal wave of sludge that came out.
SILBERNER: Right, and they can't breathe anything out of that. You know, there is a history. This isn't the first time this has happened. The EPA has on record 24 spills. They're serious coal ash spills. And from that and from other spills we know, it can accumulate in animals and plants, work its way up to the food chain. Selenium causes reproductive problems in animals. Cadmium, like in humans, causes cancer. Some of the stuff, as Tamara mentioned, is on land; that's going to dry up. How much is going to get into the air? All those things remain to be seen, but you know, again, if it's there in high amounts, that's going to be a problem. If these heavy metals are there in low amounts, not so.
SIEGEL: Joanne, this coal ash was contained in a pond, and the way the spill occurred was that the levee, in effect, the earthen dam or barrier that kept the sludge inside the pond, broke and it spilled out. Are there rules for how this sort of material is supposed to be contained?
SILBERNER: Well, there are rules, but they're not as strict as you might suspect. The EPA regulates this as if it's regular household garbage. It treats it like a landfill. You don't want anything leaching out, but that's pretty much it. So, there's no special consideration because there is heavy metals in it. Now, the state of Tennessee is tasked with enforcing those rules, and they say that they did inspect the area back in May of 2008. So, it has been inspected recently. One of the issues is, what do you do with this stuff?
SIEGEL: Yeah.
SILBERNER: There is a lot of it, 120 million tons a year. There are ways to recycle it. You can put it into concrete, but that's only about a quarter of it. The rest of it has got to go somewhere. Some people are talking of putting it into abandoned mines.
SIEGEL: So, what happens next?
SILBERNER: What happens next is the measurements will come out. And those are going to be really telling. You'll see how much of it is there. And this is probably going to spark a national debate. Clean coal, that phrase has been batted about, and I think that this is going to give fuel to the people who say there is no such thing as clean coal.
SIEGEL: As we heard from Tamara already, that has been charged at least through a sign. Thanks a lot, Joanne.
SILBERNER: Thank you.
SIEGEL: NPR's Joanne Silberner.
NPR transcripts are created on a rush deadline by Verb8tm, Inc., an NPR contractor, and produced using a proprietary transcription process developed with NPR. This text may not be in its final form and may be updated or revised in the future. Accuracy and availability may vary. The authoritative record of NPR's programming is the audio record.
Crews Toil To Clean Up Tennessee Coal Ash Spill
Crews Toil To Clean Up Tennessee Coal Ash Spill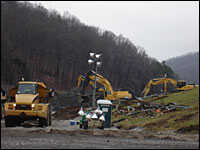 In the hill country of eastern Tennessee, residents of the town of Kingston are surveying the vast spread of wet coal ash that swamped a dozen homes and hundreds of acres in their community on Monday.
The 5.4 million cubic yards of sludge, waste from the Tennessee Valley Authority's coal-burning Kingston Fossil Plant, spilled out of an earth dam, and work crews are still struggling with the mess.
Near the site of the spill, big yellow earth movers, back hoes and dump trucks are busy as the workers try to move millions of pounds of soggy ash back to the artificial mountain it came from. The ash coats half a square mile, up to 12 feet deep in some places.
Roads are blocked, as are the train tracks that bring coal to the power facility that serves nearly 700,000 people. The plant is still running, though at a reduced capacity, and plant manager Ronald Hall says there's enough coal to last 30 to 50 days.
"We're not that concerned with coal right now," Hall says. "We're concerned with the impacts to the community and being able to have access to the other areas, so we can work with our equipment to get it cleaned up."
The Tennessee Valley Authority's environmental executive, Anda Ray, says tests of sludge and area drinking water supplies show that the massive spill isn't threatening human health, though there are concerns about what happens when the ash dries out and could become airborne. For now, Ray says there are other things for residents to worry about.
"Their issues are getting their lives back to normal," Ray says. "'Am I going to get my aesthetics back? Is my property value going to go down? Do I have a health situation?' So those are the areas that we're putting as No. 1 priority to address."
'This Is Just Sad'
Tom and Wendy Vereb recently put their home on Lakeshore Drive up for sale. The house backed up to a lovely little cove and had a water view out front, too. Wendy Vereb says there was even an interested buyer.
"She was definitely going to come," she says. "She was interested, and I can't see that happening anymore. I think that she's not going to come and say, 'Oh, this is the place I want to be,' because it's not the place Tom and I want to be right now. This is just sad. It's very sad."
The couple's house now backs up on an almost solid lake of ashy muck. Tom Vereb says it makes him think of the aftermath of the Mount St. Helens eruption, with uprooted trees poking out of the sludge. The couple won't let their dogs play outside anymore because they just don't know how hazardous the ash might be. They are not entirely reassured by word from the TVA that the sludge isn't toxic.
"You read in the papers that there's all kinds of dangerous materials in this stuff," Tom Vereb says. "It's hard to say. You know, we don't know if it is or not. But we definitely know that it isn't a beautiful, serene water setting anymore."
For many in the environmental community long opposed to coal-burning power plants, this spill is a form of validation. Someone has posted handwritten signs all over the affected area that say, "Clean Coal?"
Chandra Taylor, a staff attorney with the Southern Environmental Law Center, says her organization called for a ban on the type of ash storage used at the Kingston facility even before the spill.
"This kind of showed us all at once that kind of catastrophe can occur, but we need to be concerned over the course of time," Taylor says.
On the ground in Tennessee, environmental officials are trying to make sure that the ash doesn't spread into more waterways.
"This is manageable," says Paul Sloan, deputy commissioner of the Tennessee Department of Environment and Conservation. "We think it is manageable. We think that in terms of human health, we have made immediate assessment of the intakes for water supply. We're comfortable that we're OK there now. From what I would call a chronic perspective, having this ash on this landscape for long periods of time — that will be something that we will be looking at and will be dealing with it."
Regardless of human health effects, or even whether the ash is toxic or not, there's no question this spill is a mess of massive proportions.