Detroit's Firefighters Battle Dangerous Ghosts
Detroit's Firefighters Battle Dangerous Ghosts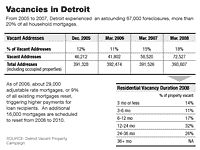 They fight in neighborhoods they describe as being like "a mouthful of broken teeth" — a burned-out building here, a collapsed home there. Calling themselves "urban warriors," Detroit's firefighters face a landscape that grows more treacherous as the city's vacancy rate climbs.
Detroit is shrinking. Once a symbol of American might, its population has dropped to less than half the 2 million it was 50 years ago. It's estimated that Detroit has more than 70,000 abandoned homes. The city says 1 in 4 homes will be unoccupied next year if the trend continues.
Over time, those abandoned homes can erode into empty, dangerous shells — giant tinderboxes dotting Detroit's neighborhoods. The fire department claims the number of fires is on the increase, though the city stopped publishing the count in 2006.
Growing Dangers
The firefighting force is shrinking, too. Fifty years ago there were 1,900 firefighters. These days there are only about half that. Engine houses have been closed, and there are just 66 companies left.
The remaining firefighters are scarred by years of service: knee replacements, aching backs, bones set and reset. Their average age is in the early 40s, but men well into their 50s hold the hose, guide the nozzle and run up burning stairs carrying many pounds of aging equipment.
Because their equipment is so poor, the men at Engine Co. 23 have rigged a bell to the quiet printer that is supposed to roll out a sheet of paper to tell them when another fire has broken out. As at firehouses everywhere, the men who work here make it their second home and treat each other like brothers.
This year the firehouse's Christmas decorations include a funeral wreath for Walter Harris. Harris was just 39 when he vanished in fiery debris as the interior stairwell of an abandoned home collapsed this past November. The fire was declared the work of arsonists.
Since Harris' death, some firefighters have taken to marking derelict houses with red X's on their foundations. Some residents take comfort from this, believing the markings mean that the fire department is keeping a closer eye. Lt. Robert Shinsky says that's a misconception.
"It's false, false, false — it's a false sense of security, because we're marking it [so] that if we ever have a fire here, we know that hey, we've looked at this place, it's got some concerns, let's take it slow."
Neighborhoods Disappearing From The Map
One thing isn't shrinking: Detroit's sprawling city limits. Firefighters still have to cover a 139-square-mile area that could easily contain San Francisco, Boston and Manhattan. With fewer fire stations, that means more fires per company and longer response times. Though firefighters still come when called, some neighborhoods are growing more and more isolated.
In the Carbonworks neighborhood, Charlene Kuslowski recounts discovering a neighbor who had committed suicide by hanging herself in her backyard. When Kuslowski gave the 911 operator the address, the dispatcher informed her that no such street existed.
Outside the Carbon Athletic Club, Dan McNamara, president of the Detroit Fire Fighters Association, looks through another abandoned house bearing a red X. It has no roof. A flower tub lists to one side near the front door. As many times as he has seen empty homes like this one, he never gets over it.
"When you come here, it's so quiet," he says. "So quiet."