Reclaiming Detroit Means Reinventing A City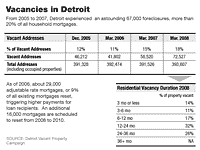 Web Resources
These days, stories about Detroit paint the American auto mecca as a city that's lost its way. But for the remaining residents of the shrinking city, it's also an urban frontier of the imagination.
For Robin Boyle, the chairman of planning and urban studies at Wayne State University, Detroit is an opportunity that is still looking for a solution.
"Detroit is a city which is part of a midcentury model of industrial and economic development that has moved on," he says. It's "quintessentially part of the 20th century, but certainly not part of the 21st century yet."
"It may get there, but at present it has lost its raison d'etre," Boyle continues. "In the old days, you made things here and you sold them outside our region." That way of life has gone.
Plus, Detroit has lost more than half its population. Boyle describes it as a poor city still trying to support the infrastructure of a much larger one.
But Boyle, who's been in the area for 17 years, wouldn't think of leaving. He wants to be there when the city reinvents itself.
What Do You Do With The Rest Of A City?
Drive down the Chrysler Freeway, and you see wave after wave of rotted-out, burned-out homes. Much of the city is a mausoleum of enormous, empty auto plants that need new life.
"What do you do with more than a third of the rest of the city that's no longer being used?" Boyle says no one has any clear ideas. "We've talked about urban planning, forestry — some cities are talking about opening up the old creeks and riverbeds that were covered over as the cities evolved in the 20th century."
He says all these ideas should be given careful consideration, but rearranging a city is going to take new vision and a lot of political support.
Meanwhile, Detroit's denizens are putting their own visions to work.
The Hope District
Over on the east side of Detroit is a group with a mission to reclaim a few blighted blocks in a commercial district. Their leader is Mike Wimberly, a tall, soft-spoken Detroit native who wields an economics degree with the spirit of a pioneer.
Wimberly bought up a few square city blocks and rechristened them the "Hope District."
He and his group, "The Friends of Detroit and Tri-County," planted gardens and scores of fruit trees in the area. They wired his 23,000-square-foot building, a former meat packing plant, for Internet access and now offer computer classes and training. The building also provides space for locally inspired projects such as the sewing group that made Wimberly's corduroy hoodie.
Wimberly also encourages an "uptick in civility," greeting everyone he sees on the streets politely and dedicating a part of his Hope District to conflict resolution for gangs. Murals decorate the sides of buildings, and everywhere there's a strong sense of enterprise. "Think locally" — it's Detroit's new vibe.
His efforts may be having some effect. Recently, a real estate speculator fixed up a nearby dilapidated building after seeing Wimberly's newly planted fruit tree groves.
Invincible And Starlet
Invincible, as she calls herself, spent her early childhood in Israel before moving to Ann Arbor and has lived in Detroit since 2002. She's a 27-year-old community organizer who developed her own independent record label.
She works tirelessly at galvanizing residents and pushing back on city development where she doesn't think residents are given a voice in the decisions affecting them. One of her pieces, named "Locusts," describes her struggle:
Locusts and buzzards circle and hover above the
abandoned houses shattered windows with the crooked shutters
cross the street construct a cookie cutter condominium
lining Woodward its the prime meridian
enemies scheming on land seizures
pretend to be well meaning but stampede us
I know you not supposed to bite the hand that feeds ya
but its poisonous spread injustice like fungus/candida

Through the nonprofit group, Detroit Summer, Invincible has performed and recruited other singers, like Starlet Lee — who, at 20, has passionately thrown herself into organizing her neighborhood.
"We don't have all the answers," Lee says, "but we can come up with the answers ourselves, and not depend too much on external resources. We can create our own solutions, teach relevancy, give kids school credit for fixing up apartments, or learn math through building."
Lee knows about starting over again. Foreclosure took the home she grew up in, scattering her family throughout the city. Invincible is her mentor, and she's a master at adapting.
'We Hope For Better Things'
The efforts of Detroit's residents make it hard not to have hope for the city. Even so, Boyle fears another vision for Detroit, one he doesn't want to realize.
"A place you pass by," he says. "You can't save every neighborhood." He's hoping the city can rebuild itself in the spirit of its motto: We Hope For Better Things; It Shall Rise From the Ashes.
That motto goes all the way back to 1805. Of course, everyone knows it's not just about hope. But that's a pretty good place to lay a foundation.