An Omani Village Emerges from Isolation
An Omani Village Emerges from Isolation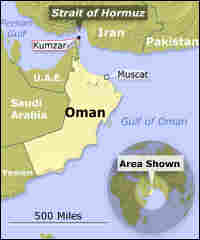 Forty percent of the world's oil exports travel on tanker ships from the Persian Gulf, through the narrow Strait of Hormuz. On the banks of this important international waterway sits a small village named Kumzar, which, until recently, appeared to have been forgotten by the modern world.
There is hardly any vegetation along the rugged coastline, but the sea is teeming with life. Flocks of seabirds hunt for fish among schools of leaping tuna.
Fishing feeds and employs most of the 3,000 inhabitants of Kumzar. You could almost sail past their tiny village without noticing it, because it's little more then a cluster of stone huts, tucked into a narrow canyon between two mountains.
In the 100-degree midday heat, there's little activity in the unpaved streets, but goats climb on the rock walls of the canyon.
The liveliest place in town is the school. Girls and boys in white uniforms sit in the comfort of an air-conditioned trailer, studying English.
The teacher, Abdul Kadr, 22, says there's not much to do in Kumzar at night. There are just two restaurants, three shops and two mosques, he says.
There are no paved roads to Kumzar, and until recently, the only way to get here was to travel several hours by boat past the arid cliffs of Oman's Musandam Peninsula.
Now, there's a small concrete shelter at the edge of town, where passengers wait for a helicopter. On Mondays, it ferries residents back and forth from the provincial capital.
The helicopter service is pretty impressive, for a village that didn't even have electricity until 15 years ago.
Ali Suleyman works at Kumzar's small power plant. The Omani government is starting to help isolated rural tribes like this one, he says.
"We have electricity, telephones and purified water now," Suleyman adds. "That's made life a lot easier."
Kumzar's geographic isolation may have helped the local language survive in a country where the majority of the population speaks Arabic. Kumzari is a mix of Arabic and Persian, with some borrowed English and Portuguese, adopted from the European sailors who have traveled for centuries through the Strait of Hormuz.
In a few weeks' time, most of the village of Kumzar will be deserted. Residents make an annual migration to the provincial capital, putting down their fishing nets for a few months to help the locals harvest dates.