Recent History Of Gaza Examined
The Islamic movement Hamas, which controls Gaza, emerged during the first intifada, which began in 1987, says Ambassador Philip Wilcox, former chief of mission and U.S. consul general in Jerusalem. Wilcox says the group grew in strength by presenting itself as a clean alternative to Yasser Arafat's Fatah movement.
MELISSA BLOCK, Host:
Philip Wilcox is with us in the studio to explain the recent history of Gaza. He's a former chief of mission and U.S. consul general in Jerusalem, now president of the Foundation for Middle East Peace. Welcome to the program.
Mr. PHILIP WILCOX (President, Foundation for Middle East Peace): Thank you.
BLOCK: Let's start back in 1987, with the first Palestinian intifada, or uprising, against Israeli control. What happened?
Mr. WILCOX: It was a spontaneous uprising by young people. It was sparked by a traffic accident in Gaza by an Israeli vehicle that killed a young Gazan, but it spread like wildfire. And it was primarily a peaceful protest, there were no firearms. And it was not organized by the PLO in Tunis, it was a local initiative.
BLOCK: And it goes on for years, it goes on until1993.
Mr. WILCOX: It went on for almost four years until it finally waned. And during that period, the Hamas Islamic Palestinian movement emerged. And during the period of the first intifada, there was a kind of tacit collaboration between the secular nationalist PLO Fatah and the newly emerging Hamas forces.
BLOCK: Let's jump forward to 1993. The Oslo Accords between the Palestinians and Israel, at that time much of Gaza comes under the authority of the Palestinian Authority and Yasser Arafat. And then, in 2000, the second intifada breaks out, very different tactically, strategically from the first.
Mr. WILCOX: Very different. It was a product of immense frustration and despair over the failure of the Oslo period, which had created great hopes and expectations that the Palestinians would be liberated and that there would be two states. That despair contributed to the growth of more extreme and violent elements and Hamas was in the lead.
BLOCK: And we saw a lot of suicide bombings within Israel at this time.
Mr. WILCOX: Yes. The suicide bombings by Hamas actually emerged in the 1990s, but they were less frequent. They became a regular tactic of Hamas in - during the second intifada and even the Fatah secularist groups - some militias emulated Hamas in order to compete for public favor, and there were Fatah suicide attacks, as well.
BLOCK: Mm hmm. In 2005, the Israeli government decides to dismantle all the Israeli settlements in the Gaza Strip. Israel's military rule ends and there's a power vacuum. Describe what follows.
Mr. WILCOX: Hamas was much better organized. With the death of Yasser Arafat, who, during his latter years, his capabilities declined and the Fatah apparatus was corrupt and ineffectual. Hamas capitalized on this by promoting themselves as clean, opposing corruption, more organized, more interested in the public welfare and more interested in liberating Palestinians from Israel.
BLOCK: Hamas also wins legislative elections, ultimately - after fighting with Fatah - seizes control of Gaza.
Mr. WILCOX: Yes. And Hamas won a 40-percent plurality. Not a majority by any means, but although they became the government and felt they had a mandate to govern, they were rejected by Israel and by the United States and the Western world.
BLOCK: Mm hmm. When Hamas seizes control of Gaza in 2007, it also effectively splits Gaza from the West Bank, in terms of political control. How has that split between the West Bank and Gaza affected life there?
Mr. WILCOX: It has gravely affected the life of the Gazans because of a very tough closure and economic boycott imposed by the Israelis, with the support of the United States and the Quartet. And the purpose of that was to alienate the Gazan public from Hamas so that they would support the Fatah in the West Bank. That policy has failed and Hamas has become even stronger in Gaza during the last two years.
BLOCK: Philip Wilcox, thanks for coming in.
Mr. WILCOX: Thank you.
BLOCK: Philip Wilcox is president of the Foundation for Middle East Peace.
NPR transcripts are created on a rush deadline by Verb8tm, Inc., an NPR contractor, and produced using a proprietary transcription process developed with NPR. This text may not be in its final form and may be updated or revised in the future. Accuracy and availability may vary. The authoritative record of NPR's programming is the audio record.
Israel's Assault Will Continue, Olmert Says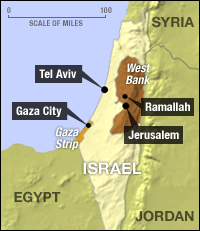 An ongoing air assault on Gaza is only the beginning of an operation to shut down Hamas and halt rocket attacks from the territory, Israeli Prime Minister Ehud Olmert says.
Olmert told Israeli President Shimon Peres on Tuesday that the aerial phase of the operation is "the first of several" phases of attack that have been approved, according to a spokesman for the prime minister.
Israeli air force jets launched a bruising offensive Saturday after Hamas, which controls Gaza, defied warnings that Israel would not stand for the rocket barrages that resumed nearly two months ago at the end of a recently expired cease-fire.
President Bush and Palestinian Authority President Mahmoud Abbas agreed in a telephone conversation Tuesday that if any new cease-fire agreement is to be effective in the Mideast, "it must be respected by Hamas," the White House said.
Briefing reporters at Bush's Texas ranch, spokesman Gordon Johndroe reiterated the U.S. call for the militant Hamas organization to stop firing rockets into Israel.
"We have got to get a commitment from Hamas that they would respect any cease-fire and make it lasting and durable," Johndroe said. "Until Israel can get that assurance from Hamas, we are not going to have a cease-fire worth the paper it's written on."
Palestinian doctors say the death toll from the days of air attacks in Gaza is more than 350, including at least 80 civilians. Monday night was one of the heaviest overnight bombardments so far, with several Hamas government buildings reduced to rubble.
Israeli warplanes destroyed a government complex, security installations and the home of a top militant commander as thousands of Israeli ground troops, backed by tanks and artillery, massed along the border.
Gaza resident Hossam al-Madhoun told NPR that most people are scared to move around and fearful of where the next airstrike might hit. He said many are running low on basic food and cooking items.
"Bakeries are closed. It's a catastrophe," he said. "I still have bread for one or two days. I don't know what to do afterwards, where to get bread from."
Israeli military officials said the airstrikes have reduced the ability of Hamas to launch rockets, but the attacks continued Tuesday. The previous day, three Israelis were killed in rocket and mortar fire from Gaza.
"Zionists, wait for more from the resistance," Hamas spokesman Ismail Radwan said in a text message to reporters, referring to the group's struggle against Israel.
Meanwhile, a small boat carrying international activists with aid for Gaza docked in the southern Lebanese port city of Tyre on Tuesday after a clash with an Israeli naval ship forced it to divert to Lebanon.
The 60-foot cabin cruiser, operated by the "Free Gaza" movement, was reportedly carrying medical aid and 16 people. It was rammed and shot at in international waters 70-80 miles off Gaza by an Israeli naval vessel. There were no casualties.
Israel's offensive against Gaza began eight days after a six-month truce between Israel and the militants expired amid a barrage of Palestinian rocket fire. The offensive comes on top of an Israeli blockade of Gaza that has largely kept all but essential goods from entering the coastal territory since Hamas violently seized control in June 2007.
Both sides have come under international pressure to end the conflict. The European Union's executive arm on Tuesday urged Israel and Hamas to protect civilians and let humanitarian aid into the Gaza Strip.
The European Commission issued its statement a few hours before an emergency meeting of the bloc's foreign ministers in Paris on the Middle East conflict that also called for "a halt to the rocket attacks targeting Israeli civilians."
From NPR staff and wire reports