Talk Of The Nation's Tribute To Lives Lost In 2008
Talk Of The Nation's Tribute To Lives Lost In 2008
Talk of the Nation reached out to friends and colleagues at NPR to ask them to remind us of some of the remarkable people who died in 2008. Here are their responses:
Howard Berkes remembers newspaper publisher Tom Gish.
David Greene shares memories of Gary Smith, NPR's longtime greeter.
Neda Ulaby writes about Egyptian film director Youssef Chahine.
Amy Blaszyk pays tribute to Peanuts animator Bill Melendez.
Margot Adler was inspired by author and women's activist Barbara Seaman.
Joanne Silberner remembers Robert Ball, former Social Security commissioner.
Greg Dixon appreciates Andy Palacio, Garifuna musician.
Josh Rogosin has fond memories of comedian George Carlin.
Karen Grigsby Bates pays tribute to Hawaiian activist and historian Richard Marks.
Phillip Martin and Bianca Baggio remember their dear friends U.T. Saunders and Cherry Enoki.
Tom Gish, Journalist And Newspaper Publisher, 82
Tom Bethell/Courtesy The Mountain Eagle
Tom Bethell/Mountain Eagle
NPR Remembrance
Tom Bethell/Courtesy The Mountain Eagle
Rain mixed with tears the November day they buried newspaperman Tom Gish in Letcher County, Ky. Boycotts, death threats, banishment and even a firebomb couldn't keep Gish from publishing The Mountain Eagle, the weekly paper in Whitesburg, Ky., which declares "It Screams" on its masthead.
But kidney failure silenced Gish at age 82, after 52 years of holding local, state and national politicians accountable with a tiny newspaper that had national impact.
Gish's shocking accounts of Appalachian poverty prompted a New York Times reporter to write a series about the issue, which was then credited with inspiring President Lyndon Johnson's "War on Poverty."
Tough reporting and editorials exposed that grinding cycle of poverty, political corruption, ineffective government programs, unfair treatment of coal miners, and the scarred-earth practices of coal companies.
The firebombing in 1974 resulted from stories about police harassment of young people. A local policeman was convicted of the crime. The bombing didn't stop Gish or his presses. Immediately after the attack, The Mountain Eagle slogan became "It Still Screams."
Before Gish and his wife, Pat, bought the paper, it called itself "A Friendly, Non-Partisan Weekly Newspaper" and was considered pleasant, chatty and inoffensive. The Gishes transformed the weekly into a crusade, attracting the attention of politicians and journalists across the state and nation.
"We didn't know that one of every two mountain adults couldn't read or write," the Gishes explained in an article quoted by the Lexington Herald-Leader. "We didn't know that tens of thousands of families had been plunged into the extremes of poverty."
Tom Gish is remembered as somebody who embraced two key aspects of the journalistic mission: give voice to the voiceless; comfort the afflicted and afflict the comfortable.
"Too many people in rural journalism have courage but burn out. Or get caught in some economic circumstance that forces them to sell out or give up," notes Al Cross, director of the Institute for Rural Journalism and Community Issues at the University of Kentucky. "[The Gishes] persevered. And they set an inspirational standard for everyone in community journalism and journalism as a whole."
Gish told CBS News reporter Charles Kuralt in 1969 that the threats, boycotts and firebombing would not drive him from his mission. "That would amount to a kind of surrendering that I just can't do," Gish declared.
The Mountain Eagle still screams, with son Ben Gish at the helm. At Tom Gish's funeral, according to longtime friend and colleague Tom Bethell, "the pastor preached the gospel of the prophet without honor in his own land ... Tom [Gish] would have approved."
Gary Smith, Longtime NPR Greeter, 57
NPR Remembrances
When I think of Gary, a Monday morning in the fall of 2005 stands out. I was just back from Pittsburgh, having watched our beloved Steelers get crushed by the Cincinnati Bengals. The Steelers fell to 7-5 for the season. Their playoff hopes were gone.
I thought Gary and I would share a painful moment in the lobby. But when I walked in, there was Gary ... smiling. Before I could get in a word, Gary looked at me and said: "They're still going to win the Super Bowl, David." I thought Gary was crazy, and I told him that.
This is when the Steelers began an improbable run. Four straight wins to sneak into the playoffs as an underdog. Three playoff wins on the road. And then, victory in Super Bowl XL. Somehow, even on what seemed like a dark day, Gary knew everything would be OK. And that's the kind of friend he was.
After my mother, a fellow Steelers fanatic, passed away, Gary made it a routine to call my cell phone on Sundays. He knew how much I missed talking to my mom during games — and he wanted me to know I still had a fellow fan on the line whenever I needed one.
After that Super Bowl win, the Steelers came to the White House for the customary congratulatory handshake from the president. It was an event I just couldn't have attended without Gary. So there we were, the two of us, walking up to the White House with our Terrible Towels, high-fiving when we spotted our favorite players.
Gary was overwhelmed, seeing his favorite team and visiting the White House. And yet, he was worrying more about me. I wanted star running back Jerome Bettis to sign a Terrible Towel for my mother, since Jerome was Mom's favorite player. Knowing how important this was to me, Gary was not going to leave the White House until I got that signature. I think he was prepared to take on the Secret Service — fortunately, that wasn't necessary.
Gary loved his family. He loved his friends, and I feel so lucky to count myself as one. And he loved people — here's a man who asked for so little, and yet was willing to spread love to strangers who walked through those glass doors. I hope Gary's family takes comfort in knowing how much love he shared, and knowing how many people have been lifted up by his smile.
Youssef Chahine, Egyptian Film Director, 82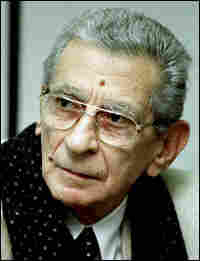 Youssef Chahine, who received a lifetime achievement award at Cannes, made dozens of films mostly unseen in the United States.
His work bubbles with sly critiques of colonialism and government corruption, Muslim/Jewish love affairs, exuberant musical numbers, and positive gay relationships (this, when the subject was still largely taboo for Western filmmakers).
His sparkling cosmopolitanism, wicked intellect and largeness of spirit are reflected in his work, as is a steadfast commitment to tolerance that some Hollywood filmmakers could stand to study.
Check out his Destiny, a rollicking biopic about the 12th century philosopher Averroes. (I'm not kidding.) Chahine's motto for that film was, "Ideas have wings." May Youssef Chahine's long continue to soar.
Jose 'Bill' Melendez, 'Peanuts' Animator, 91
NPR Remembrance
Animator, director and producer Jose "Bill" Melendez breathed life into the two-dimensional drawings of Charles Schulz's Peanuts characters. He was the only animator Schulz trusted to bring his characters to life — a trust that led Melendez, and partner Lee Mendelson, to create more than 70 Peanuts productions, including four feature films.
Melendez was also the voice behind Snoopy's laughs, sobs and howls. He won four Emmy Awards and two Peabody Awards — not to mention an Oscar nomination — for his work on Peanuts. Perhaps the most memorable at this time of year is the annually broadcast Christmas special, A Charlie Brown Christmas. The half-hour animated show paved the way for one of the most popular franchises in animation history.
Early in his career, Melendez was hired by Walt Disney to work on animated films, including Bambi, Fantasia and Dumbo. Melendez later worked with Warner Brothers studios on projects including Bugs Bunny and Porky Pig. He also worked on Cathy and Garfield, winning Emmys for his work on both.
Melendez died Sept. 2, 2008. He was 91.
Barbara Seaman, Author And Women's Activist, 72
Bettye Lane/Seven Stories Press
Barbara Seaman was a feminist activist, a women's health activist, a journalist, an author and a mentor to many young feminists.
She was sensitized about women's health issues when her aunt, Sally, died of endometrial cancer at the age of 49. Her aunt's oncologist had pointed to Premarin, which her aunt had taken to relieve menopausal symtoms. When the birth control pill came on the market in 1960, Seaman was writing for women's magazines.
She warned against estrogen (an active ingredient in Premarin) very early, and some of her medical positions on women's health caused her to be fired from several magazines. A number of pharmaceutical companies refused to advertise in magazines that carried her writings.
In 1969, she completed her first book, The Doctor's Case Against the Pill. It helped lead to the Nelson pill hearings on the safety of the combined oral contraceptive pill. As a result of the hearings, a health warning was added to the pill. In 1975, Seaman made a speech at Harvard Medical School in which she demanded that more women be admitted to medical school in obstetrics and gynecology. At the time, the number was about 3 percent.
In the 1980s, Seaman also wrote Lovely Me, a biography of Jacqueline Susann. Seaman co-founded the National Women's Health Network with four other women. She authored many other books and more recently was the co-author with Laura Eldridge of The No Nonsense Guide to Menopause.
Seaman was on the board of advisers of the New York Chapter of the National Organization for Women. She died of lung cancer in February.
Robert Ball, Commissioner Of Social Security, 93
NPR Remembrance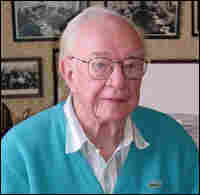 Robert M. Ball died Jan. 29, 2008, at the age of 93.
If I tell you that he was the social conscience of Social Security, and the social conscience of Medicare, you may think he was a dull and boring bureaucrat. He wasn't. He was a twinkly guy, but exacting too. And he had an unerring sense of the right thing to do.
Here was Bob Ball's big idea: If you link a government program like Medicare or Social Security to people with low incomes, it wouldn't have much long-term support in Congress, it would quickly become underfunded, and many people who need the benefits would be too embarrassed to apply for them. But if you make them available to everyone of a certain age, you'll have a lot of political support and a solid program.
Ball joined the Social Security Administration as a low-level bureaucrat in 1939, four years after the program started. He was commissioner from 1962 to 1973. And he was one of the architects of the Medicare program, which began in 1965. He was deeply involved in President Lyndon Johnson's successful effort to limit Medicare funds only to hospitals that had desegregated. That approach led to the quick desegregation of virtually all American hospitals.
Ball never bragged about that or any of his other achievements. He had the utilitarian point of view that the people over him and under him would work harder and smarter if he made sure they, not he, got the credit.
Keeping his idea going meant a lot of public and private "encounters" with presidents, Congress members and their staff. Money was always at stake. So was ideology. Ball's ideas cost money, and some of his ideas looked quite socialist.
He won his battles, maybe not immediately, but he won them in the long run. He did it by being unfailingly polite, incredibly well-prepared, and outlasting everyone in the room.
Andy Palacio, Garifuna Musician, 47
Miguel Medina/AFP/Getty Images
NPR Remembrances
Andy Palacio found his life's calling when he visited a Garifuna community in Nicaragua and discovered that no one under the age of 50 could speak their native language.
The Garifuna people are believed to be descendants of shipwrecked West African slaves and live in isolated communities on the east coast of Central America. A Garifuna himself, Palacio saw his culture vanishing before his eyes. He committed himself to preserving the Garifuna culture through music.
In 2007 Palacio released Watina, an internationally acclaimed album of songs in the Garifuna language, performed with local musicians and using his culture's rhythms. Less than a year later Palacio died of a massive stroke. He was 47.
Palacio knew that if his Garifuna heritage was to survive, the next generation would have to be convinced it was worth saving. When asked how he intended to interest his children in their culture, Palacio said, "I make songs that hopefully they love and listen to and sing and understand."
Because of his vibrant music we are all able to discover what the Garifuna culture has to offer.
George Carlin, Actor And Comedian, 71
NPR Remembrances
It was winter 1992 and I had just stoked the wood stove in my Rye, N.H., childhood home. As usual, I was up late watching TV on a school night.
Endless channel surfing ceased when I happened upon the HBO special Jammin' in New York. George Carlin was eloquently making the case that the land on which golf courses and cemeteries sit should be used for building houses for the homeless. He made the point that golf was an elitist pointless sport that uses up far too much room in this country and that if we want to be serious about recycling we should be using the dead as fertilizer.
It was thought-provoking and extremely provocative thinking that I had never heard before or since, and I became hooked on his comedy immediately. I was a freshman in high school and had finally come across an adult who made sense! His delivery had me in tears with laughter so loud that my father had to come downstairs to make sure I was all right.
George Carlin was the best thinker I have ever heard, and his influence on my own thinking is more profound than that of any rabbi, author, musician, mentor or family member I've had in my life. And that's saying a lot. Thanks for the laughter, George. I will miss you.
Richard Marks, Hawaiian Activist And Historian, 79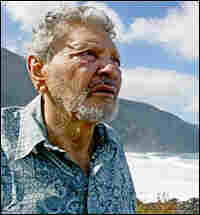 In 1866, the Kingdom of Hawaii declared that all persons with leprosy would be banished to the isolated Kalaupapa peninsula on the Hawaiian island of Molokai. Richard Marks, who died at age 79 on Dec. 9 after a long illness, left Kalaupapa a vastly different community than the one to which he had been forcefully sent in 1956.
Marks was familiar with the ravages of leprosy at an early age: His father, two siblings and several other family members had been sent to Kalaupapa when he was a young boy. When he was 21, a few lesions appeared on his body and he, too, was diagnosed with leprosy and sent to Kalaupapa.
Other than a few trips off-island, Marks remained on Molokai for the remainder of his life. He became Kalaupapa's institutional memory, a civil rights activist for the aging population of leprosy patients who remained behind after formal banishment ended, and a successful local businessman.
Marks and his wife, Gloria, were married for 46 years. Together they ran Damien Tours, the island's only tour agency. Marks named it for Damien de Veuster, the beloved Belgian missionary who devoted his life to caring for the colony's residents.
Marks' legacy will be significant: The soft-spoken island historian led a successful effort to have Kalaupapa designated a National Historical Park in 1980, and he had been diligent in fighting against the pervasive development that has erased much of Hawaiian culture on other, more accessible islands. In 1996, the Damien-Dutton Society for Leprosy Aid honored Marks for educating the public about leprosy and Kalaupapa's history.
Richard Marks was one of just two dozen Kalaupapa residents to remain on the peninsula. Eventually, Kalaupapa will be just empty buildings. But thanks to Marks' life's work, the colony's history will remain intact for posterity.
U.T. Saunders, 59, And 'Cherry' Enoki, 33
Two members of our close multi-hued family of friends passed in 2008: U.T. Saunders at 59 and Chihiro "Cherry" Enoki, at 33. U.T. was born and raised in Cleveland but came of age in Boston, a city once wracked by racial turmoil. U.T. was part of the solution.
He was a Harvard-trained organizational consultant who helped schools, nonprofits and corporations come face to face with racial, gender and class divisions. His greatest passion was jazz.
When Bill Evans taps the piano lightly in "Waltz for Debbie" we see U.T.'s head swaying. Then there's the picture of him snapping his fingers, oh so lightly, like quiet applause, at an Andy Bey performance — U.T.'s last — in December 2007.
And when water falls from the sky some nights, we hear U.T.'s music, like the sound of steady raindrops. U.T. died of cancer Jan. 31 at Boston's Beth Israel Deaconess Hospital. He is survived by his son, Brendan, and daughter, Kelly.
When we last saw Cherry it was over brunch in Brooklyn at a South African restaurant named for Nelson Mandela. Finding it was an example of Cherry's inner GPS. She gravitated to and swam in a broad sea of humanity.
Born in Japan, she was the infamous nail that stood out. And in the United States, this Emmy-nominated, Brooklyn-based TV editor turned science documentaries for Nova and The Discovery Channel into virtual art house filmmaking.
Cherry, an adventurous, warm and compassionate dynamo of a woman, fell to her death climbing California's Mt. Shasta Thanksgiving week. Over brunch she had spoken excitedly about climbing this peak, and from there going on to greater heights. She did.
She was honored at a ceremony at a Buddhist shrine in Los Angeles. Her brother, Yoshi , father, Yoshi Sr., and mother, Kayo, plan one day to take Cherry's ashes to Japan.
Cherry and U.T.: We miss you.