Israel Rejects Two-Day Truce In Gaza
NPR's Eric Westervelt Talks With Steve Inskeep On 'Morning Edition'
Israeli warplanes have made more airstrikes into Gaza as key world powers pressure Israel and Hamas to call a truce. Hamas, meanwhile, is keeping up its rocket barrages into southern Israel. Israeli officials have turned down a call for a two-day truce in Gaza so medical, food and relief supplies could get in.
STEVE INSKEEP, host:
It's Morning Edition from NPR News. Good morning, I'm Steve Inskeep. Israel has turned down a call for a two-day truce in Gaza. It was a proposal to let more medical, food, and relief supplies get in. And the Israeli air bombardment of the territory continued today.
So, by the way, did Hamas rocket fire into Israel. In fact, those rockets reached Be'er Sheva, an Israeli city 30 miles from Gaza. That's the deepest Palestinian rocket penetration yet. In a moment, we'll ask Israel's Ambassador to the United States about all this. We begin with NPR's Eric Westervelt, who's covering the story and speaks with us today from Jerusalem. Eric, welcome to the program.
ERICK WESTERVELT: Morning, Steve.
INSKEEP: Because we're talking about getting food and supplies into Gaza, or that was the proposal anyway, what amounts of food and medical supplies are available now?
WESTERVELT: Well, the UN, Steve, says conditions are worsening. Grain warehouses for the UN are empty. They use that grain to deliver direct aid to hundreds of thousands of needy Gazans. That has now stopped. Gaza's hospitals vitally need to - need vital supplies. They don't always have reliable power, so conditions are getting worse.
That's why France put forward this proposal, Steve, for a two-day humanitarian truce. And an Israeli official says senior leaders discussed the idea last night and rejected it. One official told me quote, "Giving Hamas a break now to regroup and rearm is a big mistake. It's important to keep the pressure on the group," he said, "that's the whole point of this operation."
INSKEEP: What did Hamas think of this ceasefire plan? They're shooting, too.
WESTERVELT: That's right. They've rejected talk of a truce that does not meet specific demands, including Israel reopening all the border crossings to allow goods to flow into the territory, including a reopening, Steve, of the southern crossing into Egypt.
But getting a reaction from Hamas to this specific 48-hour truce idea has been extremely hard. Even lower-level Hamas officials and spokespeople are, literally, gone underground, and they're almost impossible to reach.
INSKEEP: We're talking with NPR's Eric Westervelt in Jerusalem. And, Eric, of course, we have been getting vivid accounts of damage and civilians killed in Gaza, but as we mentioned, there's also rocket fire going the other way into Israel. And what's happening in this place more than 30 miles from Gaza where that rocket landed today?
WESTERVELT: Well, there's really bad weather across much of Israel, and that's helping militants who can use this cloud cover and rain to conceal movements and launch more rockets, and they have.
Today Be'er Sheva, which is some 30 miles from Gaza, a town of more than 200,000 people, came under sustained rocket fire. At least a half a dozen of these longer-range, 122-millimeter Katusha rockets struck the city, including a hotel and an empty school.
Police tell us there was some serious damage, Steve, but no serious injuries. Ashdod and Ashkelon, north of Gaza, and several other town and villages also came under rocket attack, but police tell us, in those attacks as well, there were no serious injuries.
INSKEEP: Eric, very briefly, you are, of course, reporting from Jerusalem, and that's by necessity because journalists have, by and large, not been allowed into Gaza. Might that change soon?
WESTERVELT: That's right. Israel has barred journalists from entering the territory. The Foreign Press Association has filed a "Freedom of the Press" lawsuit. And today, the Israeli Supreme Court ruled that Israel has to allow at least a limited number of foreign reporters into Gaza every time they open the border crossing for any humanitarian relief. So the court gave the government until tomorrow morning, Steve, to respond and then implement that ruling immediately.
OK. Eric, thanks very much.
WESTERVELT: You're welcome.
INSKEEP: That's NPR's Eric Westervelt, getting us the latest from Jerusalem.
NPR transcripts are created on a rush deadline by Verb8tm, Inc., an NPR contractor, and produced using a proprietary transcription process developed with NPR. This text may not be in its final form and may be updated or revised in the future. Accuracy and availability may vary. The authoritative record of NPR's programming is the audio record.
As Air Assault Continues, Israel Rejects Truce Deal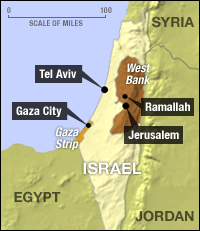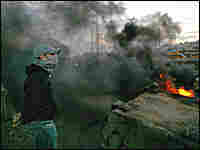 Israel continued air and naval bombardment of the Gaza Strip on Wednesday after rejecting a French proposal for a two-day cease-fire to allow food and medical supplies to reach the besieged region.
Hamas, which controls Gaza, also continued rocket attacks on Israel.
With basic food supplies running low in Gaza and hospitals struggling to handle the casualties, France's foreign minister proposed a 48-hour lull to allow vital aid to enter the territory and be delivered to its 1.5 million residents.
Senior Israeli leaders discussed the idea and rejected it.
One who asked not to be named told NPR that "giving Hamas a break now to regroup and rearm is a mistake."
"It's important to keep the military pressure on Hamas; that's the whole point of this operation," he said.
Hamas has also previously rejected talk of a truce that does not include Israel reopening all of the border crossings to allow goods to flow into the territory.
Meanwhile, at an emergency meeting in Cairo of the 22-member Arab League, foreign ministers blamed Palestinian divisions for opening the door to Israel's punishing attacks.
Saudi Foreign Minister Saud al-Faisal said divisions between the Palestinian Authority, which controls the West Bank territory, and rival Hamas militants were also hindering any effective Arab response to what he called "this terrible massacre."
Arab League chief Amr Moussa called on the Palestinian rivals to hold an immediate reconciliation meeting and urged Arab states to present a united front. The Israeli bombardment has pitted moderate Arab governments against Syria and Iran.
Along the heavily fortified Gaza border fence, Israeli tank crews prepared for battle while Islamist militants, hiding as little as a few hundred yards away, laid land mines and other booby traps in case a ground war breaks out.
About 100 trucks of supplies were scheduled to enter Gaza on Wednesday. U.N. officials said, however, that the shipment falls far short of what is needed and that without a cease-fire, it is too dangerous to deliver much of the food and medical relief.
Nearly 400 people, mostly Palestinians, have been killed in five days of cross-border fighting, making the current conflict the deadliest in the Gaza Strip in four decades.
At his ranch in Crawford, Texas, President Bush spoke by telephone with Israeli Prime Minister Ehud Olmert.
"They both discussed their mutual desire" for peace, White House spokesman Gordon Johndroe told reporters.
Bush voiced concern about the strikes in Gaza and the attacks in Israel and also raised again his worries about civilian casualties in Gaza, Johndroe said.
Asked specifically what concern the administration voiced about the violence of recent days, Johndroe said: "President Bush is disappointed that Hamas continues to fire rockets on the innocent people of Israel."
He said as far as a new cease-fire is concerned, "The onus is on Hamas."
European powers have also increased pressure on both sides to halt hostilities, but public anger in Israel over the widening of the rocket attacks to include Beersheba, 24 miles from the Gaza Strip, could move the government to hit Hamas even harder.
In Paris, French Foreign Minister Bernard Kouchner repeated his call for an immediate end to the fighting and said a cease-fire allowing humanitarian access "has to be permanent and it has to be respected" because previous truces had failed.
From staff and wire reports