Richard Sudhalter On Cornetist Bix Beiderbecke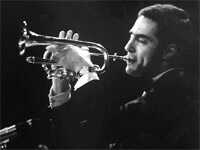 Set List
"Jazz Me Blues" (Delany)
"Way Down Yonder in New Orleans" (Schoenberg)
"Davenport Blues" (Beiderbecke)
"In a Mist" (Beiderbecke)
"Louisiana" (Johnson, Razaf)
"Portrait of Bix" (McPartland)
"Singing the Blues" (Ensley)
In 2008, the jazz world lost jazz historian and cornetist Richard Sudhalter.
Sudhalter joined Marian McPartland on several occasions over the years to provide historical perspective and play some gems from the golden era of jazz, which was his particular specialty.
On this Piano Jazz program from the spring of 2000, Sudhalter and McPartland discuss the legacy of cornetist and composer Bix Beiderbecke. Though his life was short, Beiderbecke's legacy was long-lived.
A native of Davenport, Iowa, Beiderbecke arrived on Chicago's "hot" jazz scene at about the same time as musicians such as King Oliver and Louis Armstrong, who had brought with them their own distinctive New Orleans sound. Beiderbecke wasn't widely known among the general population at the time of his death, but among jazz players and those in the know, he was one of the greats.
Sudhalter wrote the definitive book on the enigmatic cornetist, titled Bix: Man and Legend. He relied on firsthand accounts by those who knew the man, one of those primary sources being Jimmy McPartland, Marian's late husband.
Sudhalter brought along guitarist Howard Alden and bassist Bill Crow for this Piano Jazz program, to perform some of the songs for which Beiderbecke was known. There's a strong geographic theme here, as the group performs Beiderbecke's tribute to his hometown, "Davenport Blues," as well as a few tunes celebrating the influences of musicians from the other end of the Mississippi: "Louisiana" and "Way Down Yonder in New Orleans." McPartland also re-creates one of Beiderbecke's most famous tunes, "In a Mist," a quirky, impressionist-influenced tune that perfectly captures the mysterious nature of the man.
Piano Jazz salutes Richard Sudhalter with this encore program. His contributions to the history of jazz of the 1920s and '30s have made a major impact on the jazz world.