The Year in TV: NPR's Pop-Culture Blogger Reports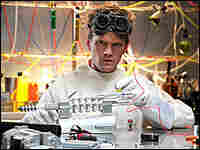 The writers' strike kneecapped TV's comedies and dramas alike. Tina Fey made Saturday Night Live relevant again.
Dr. Horrible blogged, and you sang along. Hulu made on-demand, ad-supported TV content easy to find and easy to watch online. And NBC's Jay Leno got a prime-time slot — crowding out five full hours of scripted drama each week.
Linda Holmes, lead writer for NPR's Monkey See pop-culture blog and a former writer and editor at Television Without Pity, joins guest host Ari Shapiro for a look at what happened on the small screen in 2008 — and what 2009 is likely to bring.
At Monkey See: Linda's 2009 Television Wish List.