The Time Jumpers Beat The Time Clock
The Time Jumpers Beat The Time Clock
Listen to Time Jump
Stompin' at the Station [Instrumental]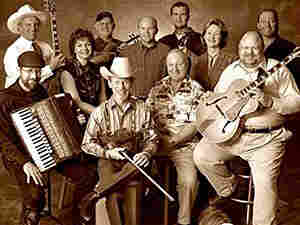 Every day in Nashville, hundreds of musicians sign time cards and put in nine-hour days at recording studios for whomever is paying the bill. Make no mistake: Musicians compete fiercely for these jobs. But making commercial music is still work, just as surely as accounting or bricklaying is work. Which is why most pros belong to at least one band that reminds them why they started playing music in the first place. One such band is The Time Jumpers.
The musicians are about as good as they come. Bass player Dennis Crouch just finished a tour with Alison Krauss and Robert Plant. Paul Franklin is the most recorded pedal-steel guitarist working today. Fiddler Kenny Sears has been a sideman for classic country artists such as Mel Tillis and Ray Price. Every Monday night for the past 10 years, they and roughly eight other musicians gather on stage at Nashville's famed Station Inn to play the music they want to play.
It's All About Close Collaboration
The Station Inn is one of the most famous bluegrass clubs in the world. Its neon beer signs illuminate vintage posters for shows by the likes of Ralph Stanley, The Osborne Brothers and Mac Wiseman. The stage is cozy.
"There's 11 of us on a stage that should accommodate five or six," Sears says.
During typical shows, where he's backing up a star, Sears is on giant stages, far apart from his fellow musicians. The Time Jumpers' members draw their energy from intimacy.
"Even when we play the Opry, on a big stage," Sears says, "we bunch up together in the middle like a bluegrass band, because it's just much more fun to play that way."
The Grand Ole Opry is where The Time Jumpers were born. Band members and Opry stars passed time between sets playing Western swing tunes in Dressing Room 6. A tentative Monday-night residency at the Station Inn took root, and a more formalized lineup started looking forward to the shows as the highlight of its week.
Joe Spivey, a recording-studio owner and member of the three-man fiddle section, says The Time Jumpers' music is about as different as it could be from what the Nashville music machine cranks out these days. The members of the band respond accordingly.
"That's one of the most joyful things about this band," Spivey says. "Everybody is so conscientious. I mean, you'll notice when somebody's playing solos, everybody's doing whatever they can do to make that soloist sound as good as they can."
Doug Green is happy to play a supporting role — seated in the back, strumming a big arch-top rhythm guitar the way Freddie Green used to for Count Basie's orchestra. But this is Ranger Doug Green, frontman of the Grammy-winning cowboy band Riders in the Sky.
"This is my therapy," Green says. "My relaxation. This is when I get together with the people I really like and play music I really love. I don't have to front the band and remember jokes and make up the set list and drive 500 miles. I just get to show up and play with people I respect enormously. It's just inspiring."
Jumpin' Time
The lines between country music and jazz were blurry decades ago, when Bob Wills and Spade Cooley built the Western swing sound around fiddles, guitars and driving big-band rhythm sections. In Nashville, session pickers and producers such as Hank Garland, Chet Atkins and Owen Bradley were jazz men when they weren't making hillbilly records. So The Time Jumpers' members aren't out to break new ground. They're just an increasingly rare example of a band dedicated to group interpretation of classic American songs like "Honeysuckle Rose," as well as such newer material as Mickey Newbury's "Sweet Memories." Time Jumper Dawn Sears' performance of that ballad on the band's CD, Jumpin' Time, helped earn the band one of its two Grammy nominations last year.
That recording proved bittersweet, because it captured one of the last performances by the band's longtime steel guitarist, John Hughey. A veteran sideman for Conway Twitty, Vince Gill and Loretta Lynn, Hughey died just after the live CD and DVD were released. His protege Paul Franklin, a veteran of hundreds of hit-album recording sessions, stepped in.
"They could have anybody in this band," Franklin says. "I don't think there's a steel guitarist in town that wouldn't jump at this gig. So I was very honored that they asked me. And for me, it's such a step away from what I do on a day-to-day basis. Like today, I did a project that was more like Matchbox Twenty than country. And then to come down here, it's such a nice change of pace."
It goes deeper for lead guitarist Andy Reiss.
"To me, the beauty of music is the unspoken communication," Reiss says. "The beauty of music is [that] when your ears are wide open, your heart is wide open. You're not even thinking. You're listening and you're part of something, and everybody is doing that. When that happens, it's pure magic. And as a musician, you know how rare that is."
For these 11 musicians, at least, it's no rarer than once a week.