Natural Gas Powers Russian-German Ties
Natural Gas Powers Russian-German Ties
The second in a three-part series
Andreas Rentz/Getty Images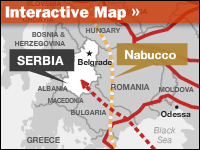 More In The Series
Gazprom, Russia's giant gas monopoly, is the world's largest producer of natural gas. The company lies at the center of the Kremlin's strategy to boost control over global energy supplies and, many believe, its political influence. Read more about the series.
Russia, the World War II enemy that split Germany in half, now supplies the country with more than 40 percent of its natural gas.
Germany is the biggest customer of the Russian state natural gas monopoly, Gazprom. But it is among the many European countries becoming increasingly dependent on energy from Russia.
That's worrying those who say Moscow is using its natural resources as a political weapon.
Harvard University's Marshall Goldman says Moscow's control over energy supplies gives it more power to influence Europe than the Red Army did during the Cold War.
"In this case, with energy, the Russians have that weapon and there's nothing you can do to counter it," he says.
Gas Supplies As Leverage
Russia's natural gas shutoff to Ukraine has once again drawn attention to Europe's growing dependence on Russian energy. When Moscow first cut off gas to Ukraine, many saw it as punishment for Kiev's pro-Western policies. But Western Europe was affected, too. Russia supplies a quarter of Europe's gas supplies. Eighty percent of the gas crosses Ukraine, and there were fears supplies would run out during a bitterly cold winter.
Goldman, who recently published a book about Russia called Petrostate, says just the threat of similar disruptions gives Moscow leverage over its clients.
"It intimidates a country, and in a sense, it neutralizes the country," he says. "If you look at Germany's policies after that incident, they've become much more timid in challenging some of the things that countries might do that would upset the Russians."
Last November, the Bush administration campaigned to put Ukraine and Georgia on a path to NATO membership, an issue that has provoked fury in Russia. Despite international outrage over Russia's summer invasion of Georgia, German Chancellor Angela Merkel led the opposition to Washington's plan, and the U.S. was defeated.
Russia: 'Dependence Cuts Both Ways'
But in Moscow, Gazprom's Deputy Director Alexander Medvedev, who heads gas exports, denies the Kremlin is using energy to apply political pressure.
"A pipe has two ends. Dependence cuts both ways," he says. "We could just as easily talk about Russia being under financial pressure from European customers paying for our gas."
European countries have repeatedly promised to diversify their energy supplies. But the dependence on Russia keeps growing. Still, many Germans aren't worried.
University student Francisca Ullman, who barely remembers the Cold War, says cooperation with Russia is the future for Germany. "It's smarter to have an energy partnership with Russia because it's much closer than, say, the United States," she says.
North of Berlin, in the Baltic Sea city of Rostock, German high school students play a Russian-language board game, part of a competition held in schools across the country. It's sponsored by Gazprom, part of a public relations campaign here.
Teacher Joachim Hacker says that even without prompting, growing numbers of students in this industrial city are signing up to study Russian language.
"It's one of the economically leading countries in Europe, and it's becoming stronger and stronger in its economy and its influence in the world," he says.
New Pipeline Would Bypass Ukraine
Despite the financial crisis, Gazprom is going ahead with plans to build the North Stream, a pipeline to Germany directly from Russia that would cut out transit countries such as Ukraine. The project is led by none other than former Chancellor Gerhard Schroeder, who took the job only weeks after he left office.
Although many Germans were outraged, Angelica Schwall-Duren, of Schroeder's Social Democratic Party, says she hopes the former chancellor was acting in Germany's interests.
"Energy prices are increasing, and Germany will need gas because it won't be able to produce enough renewable energy," she says. "But it's not a one-way street. Russia also depends on its European customers and investors."
Germans say Russia's need for German investment makes their relationship one of co-dependence. But above all, politicians say Germany, which is phasing out nuclear power, simply has no other option.
Ekhard von Klaeden of Merkel's center-right Christian Democratic Party is a well-known Russia critic. But even he praises the new North Stream pipeline, saying it will help Germany guarantee energy supplies to other European countries.
"The answer has to be a network of pipelines within Europe," he says. "If the North Stream project is integrated in this way, I don't see this reason for fear and concern."
Gazprom Strategy A Success, So Far
But those who do worry about Gazprom's widening influence say the company has been successful in persuading European countries to consider their own national interests ahead of a unified European energy strategy.
Celeste Wallander of Georgetown University says Gazprom has been cultivating Western energy companies to act as lobbyists for Russian interests.
"There are a lot of European business people making a lot of money by being willing to make deals with Gazprom, and those business elites, in Germany most clearly, are obviously influential in the politics and policies of their own country," she says.
In December, Germany blocked proposed EU regulations that would have restricted foreign companies from buying European energy utilities. The measure was widely seen as directed against Gazprom. Now, critics say, Gazprom is free to pursue its strategy of controlling the entire gas supply chain from Siberia direct to the homes of European consumers.