Gaza Conflict Plays Out Online Through Social Media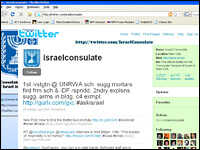 The Gaza Strip may be closed to most traditional media, but the conflict there is still being reported — sometimes in cell phone interviews and through cell phone videos posted on YouTube — and increasingly on social media sites such as Twitter and Facebook.
People on the ground are telling their stories in 140-character bursts — "tweets" — on Twitter.com, as Hamas rockets crash into Israeli towns and Israeli forces bomb targets in Gaza.
Online media are conglomerating their information, and governments are getting into the act.
Al-Jazeera Maps Texts, Tweets
Al-Jazeera television features Twitter and text message updates in the War on Gaza section of its Web site, and it is plotting the information it gets on a map of Gaza and the surrounding areas. The map shows the locations of airstrikes, rocket attacks, Palestinian and Israeli casualties and other information based on cumulative reports.
Al-Jazeera's Twitter account has grown to close to 3,500 subscribers in about a week, and many of those subscribers multiply that effect by passing on what they receive in Twitter and Facebook messages, blogs and other online forums.
Riyaad Minty, a senior analyst at Al-Jazeera, says his is one of the few media organizations that have correspondents in the Gaza Strip who can help confirm some of the information that's provided on Twitter and in text messages.
"If we didn't have correspondents in Gaza, we'd use the information, but in a different way," Minty says, stressing that the information is unverified.
Israeli Government Uses Twitter
Meanwhile, Israel's consulate in New York City has launched a Twitter feed that posts the Israeli government side of the story and responds to questions from the public. The Israeli account has about 4,000 followers.
Kevin Anderson, the blog editor at the British newspaper The Guardian, says social media tools have been used in various conflicts for a while now.
But, he says, "before, a lot of this was grass-roots, ad hoc activity. What's interesting about this is that Israel is using something organized."
Anderson says the Israeli government has realized that social media amount to another front where it has to be active.
"We've seen governments try to control information on social media before," he says, "but you haven't seen governments trying to use social media like this."
David Saranga, Israel's consul for media and public affairs in New York, says his government started using the Internet and social media well before the conflict in Gaza.
"Public diplomacy means you have to reach the public — and if the public is changing its pattern of gathering news, we have to change the way we deliver our message," he says.
Saranga says Twitter is well-suited to convey the Israeli government's message on Gaza to a new audience.
"It's very simple and easy to communicate in 140 characters," he says. For example, a message might be: "More than 10,000 rockets were launched from Gaza towards Israel in the last eight years," he adds. A single message in Twitter is limited to no more than 140 characters. Saranga says that's enough to refer people to sites where they can get more information.
The Israeli official also says that Twitter has a strong multiplier effect for other messages. When the consulate's Twitter feed asked people to watch videos of children under rocket attack in the Israeli town of Sderot, for example, Saranga says there was an immediate increase in the number of times the videos were viewed.
Andy Carvin, NPR's senior strategist for social media, says the various sides in the Gaza conflict have realized that there are communities of people online — bloggers, podcasters and those who have big followings in social media — who can be very influential.
"They're heavier users of the Internet," he says, "and a certain percentage is very engaged in linking with others. It's a more intimate way of getting your message out that seems more personal and authentic."
Policing Their Own Reporting?
Carvin says there is a problem with determining the reliability of information that's provided through social media, but that there's an "unspoken system of checks and balances that kicks into high gear when there's a crisis. People who value high-quality information start posting their concerns publicly, challenging others who are just passing on hearsay," he says.
Al-Jazeera's Minty says there's a big learning curve for everyone involved in using social media for news.
"You'll get a lot of research out of this and new strategies for using it," he says. "It's actually becoming critical for governments to get their messages out on these platforms."
Minty says he is not troubled by governmental or commercial involvement in the social media, because he believes that users of the media will hold the institutions to account.
The Israeli consulate's Saranga says his government's foray into social media has been an interesting experience.
"In the past we used to convey our message through third parties, that is, through the media. Now we find ourselves in a dialogue with the public. It's the first time I can get my message across and use other people to multiply the message," he says.
Saranga says the interactive quality of social media, the challenges from the public, help force the government to increase transparency.
The experiment in Gaza may not be long-lived. Minty says the biggest challenge to getting messages out of Gaza is damage to the infrastructure. Cell phone towers are damaged. Power outages make it impossible to use a computer or recharge a cell phone.
But that won't hamper people elsewhere from using social media to speak out on the story and try to understand it.