Micah Blue Smaldone: 'A Guest'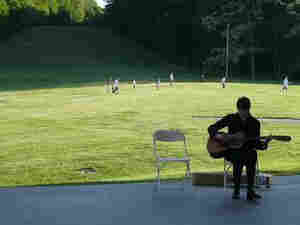 Listening to the music of Micah Blue Smaldone, it's hard to believe that his roots are in punk rock. The singer, now based in Portland, ME, fronted the Pinkerton Thugs in the mid-1990s, performing brash, provocative songs with an anarchist political bent. But Smaldone has since mellowed considerably. These days, he makes sparely arranged songs that draw on neo-traditional folk, country and blues. On his latest album, The Red River, Smaldone sings with an achy, folk-tinged voice — weary but wise — as he explores a world he sees as deeply troubled but ultimately brimming with hope.
On the album opener, "A Guest," Smaldone uses a heavy but deft finger-picking style, with rumbling string stabs and a steady, plodding rhythm, as he sings about a mysterious visitor who joins a strange and ominous group of people for dinner. Smaldone's creaky voice is eventually joined by ghostly choir. The air is filled with dread. It's an eerie tone, which Smaldone weaves throughout the album as he offers up tremulous meditations on what he sees as humanity's inherent penchant for evil, while maintaining a fragile faith in our capacity for goodness.
The Red River is Smaldone's third solo release. His debut, 2003's Some Sweet Day, was an homage to ragtime and classic blues. Smaldone followed it with the 2005 album Hither and Thither. The songs on The Red River were written after Smaldone finished an 11-week tour through Europe in the winter of 2007.
Download this song in the Second Stage podcast.
Yesterday's Second Stage artist.