Series Overview: America's Broken Army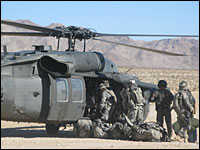 More In The Series
America still has the most powerful Army in the world, but two wars in Iraq and Afghanistan have taken a toll, and the force has been stretched to the breaking point. Senior Army officials, like Chief of Staff George Casey, say the Army is "out of balance."
There is no denying that the Army is under stress.
There simply are not enough soldiers to do it all: fight, return home and train for the next fight. Deployments grew to 15 months in length, and only recently have they been reduced to a year. Many soldiers are serving third and fourth tours in combat.
The Army is recruiting new soldiers to bolster the ranks, but finding quality soldiers remains a challenge. It is taking twice as many recruits who have scored in the lowest acceptable category of the military's aptitude test, and thousands have joined with waivers for criminal records, including assault and theft, as well as for physical problems such as flat feet or asthma — records that in previous years would have barred them from service.
The Army is also bringing in many more soldiers without high school diplomas, which recruiters view as a key indicator of success.
Equipment has been battered, and repairing it costs some $17 billion a year. That money is coming out of emergency supplemental budgets now, and there is concern that the money will have to be taken from the regular budget, squeezing other Army programs.
Furthermore, the Army isn't even preparing to fight all kinds of war. It is now only training for counterinsurgency operations in Iraq and Afghanistan, not for high-end military operations, such as large battles with divisions using tanks and aircraft. A recent internal Army report found that a stunning 90 percent of artillery units are unqualified to fire artillery accurately — the lowest level in history.
This week, we will look at some of the subtle signs that the Army is under pressure — and the ways the Army is trying to fix what is broken. We'll begin by looking at the kinds of wars the Army is preparing to be ready to fight.
Part 1: Training — The Army Can't Do It All
The force that invaded Iraq in 2003 couldn't launch such a devastating tank assault today. That's what one of the Army's young officers responsible for training soldiers now argues. The reason is fairly simple: The Army barely trains for tank warfare anymore. We will visit the premier training center where the Army once simulated massive tank battles. Now the Army doesn't have the luxury — it's too busy getting soldiers ready for boots-on-the ground combat in Afghanistan and Iraq. That training, for counterinsurgency warfare, is vitally important, but Army leaders are wondering whether the service has shifted too far in one direction: that by preparing to fight the last wars — Iraq and Afghanistan — the force isn't ready for the future.
The Army is trying to bring back more "conventional" Army training, to balance off the counterinsurgency training, but it won't be able to even begin its effort to ease that imbalance until 2010. Some are wondering what will happen in the meantime, if a large-scale war breaks out in North Korea or somewhere else? The answer: More risk will have to be accepted.
Part 2: West Point — Teaching New Leaders
In the second part of our series, we visit West Point, where the Army has changed the way it teaches its next generation of leaders. Here, too, the doctrine of counterinsurgency warfare is becoming the centerpiece of what is taught. That means the classroom is a very different place than it was even a few years ago. Students are even learning from their classmates, many of whom are veterans of Iraq and Afghanistan. The professors at West Point hope that they themselves are delivering a better education than the one they received when they were students.
The Army is under pressure to make education more relevant. With repeated deployments to combat zones, it is losing junior officers at an accelerated rate: West Point graduates are leaving at rates of nearly 10 percent higher than in past years. The Army is thereby promoting those who remain faster. Some of these very junior officers are questioning whether they have the maturity to move forward that quickly. The Army is losing more officers at a time it needs even more, because the overall force is expanding by 65,000 soldiers. The Army expects to be short 3,000 captains and majors at least until 2013.
Part 3: Depots — The Repair Bill
We'll travel to an Army repair depot to see what it takes, and what it costs, to repair all the equipment damaged in war. Not too long ago, an Army repair depot — there are five of them — would repair maybe two or three Humvees in a week. Now, 32 roll off the line every day.
The gear has been damaged in war, and it costs the Army $17 billion each year to fix it all. But some critics think the Army is playing a shell game: Not only is it fixing Humvees and other equipment — it's using that $17 billion to modernize its equipment. The critics argue that's an improper use of the money. If the new Congress agrees, the Army may have to choose between fixing its old gear and upgrading to new.
Part 4: The Man In Charge — Gen. George Casey
Finally, we will meet Gen. George Casey, the Army chief of staff. He is the former commander of all forces in Iraq. He served at the height of the insurgency, when the war was not going well. He is now responsible for fixing the Army that the Iraq war helped break. We will talk with him about how his experience in Iraq influences his plans for fixing the Army he leads.