Energy Secretary Pick Faces Confirmation Hearing
Energy Secretary Pick Faces Confirmation Hearing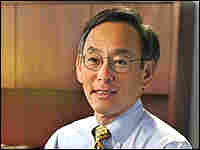 Roy Kaltschmidt/Lawrence Berkeley National Lab
On Climate Change
Chu is an advocate of renewable energy research and finding scientific solutions to climate change. Take a closer look at his thoughts on the future of energy.
The man tapped by President-elect Barack Obama to run the Department of Energy goes before a Senate panel Tuesday to explain how he plans to change the nation's energy economy.
Physicist Steven Chu, whose confirmation hearing will be held by the Energy and Natural Resources Committee, comes with first-rate scientific credentials. He won the 1997 Nobel Prize in physics and has spent the past four years as a government bureaucrat, running the Energy Department's Lawrence Berkeley Laboratory in California.
Although Chu hasn't been talking much since Obama's announcement, he has a clear record as an advocate of "green" energy. During his tenure at the Berkeley lab, he shifted research efforts toward developing biofuels, especially alternatives to ethanol.
Chu shares the president-elect's concern about climate change. In a conversation with NPR about a year ago, he said Americans need to learn more about climate change. "I don't think the American public understands the reasonably high probability that some very bad things will happen," Chu said, "because if they really felt that, then they really would do something about it."
Up to now, he says, the U.S. government has been using inactivity by China and other developing countries as an excuse not to do much to mitigate climate change.
Chu also has been a critic of coal, the nation's largest source of greenhouse gases as well as the major fuel source for making electricity. He says putting a price on carbon to make fossil fuels more expensive is high on his to-do list.
That may irritate senators from coal-mining states during Chu's confirmation hearing.
Chu has mollified those critics somewhat by advocating "clean coal," which has been one of the Energy Department's research interests in the past. Clean coal would be burned in a way that would limit or remove carbon dioxide, the major greenhouse gas. Many environmental groups oppose the idea that any use of coal can be "clean," and Chu may well find himself at odds with that wing of the environmental movement.
But the Department of Energy is not necessarily the place where energy policy gets made. The agency spends most of its budget maintaining the nation's nuclear arsenal, doing research on weapons and cleaning up radioactive waste from its facilities. The department is also in charge of the still-unsuccessful effort to find a place to bury high-level nuclear waste from power plants.
Nonetheless, climate change experts applaud Chu's interest.
"I think that the focus is going to be on energy more than the nuclear weapons side of the house," says Eileen Claussen, head of the Pew Center on Global Climate Change in Washington. "I think the president-elect is committed to a new energy future, and I think he is going to look to the DOE to do a lot of the technological work to make sure that future is possible."