CEO: GM Can Be Competitive Amid Restructuring
CEO: GM Can Be Competitive Amid Restructuring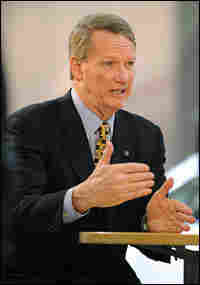 Stan Honda/AFP/Getty Images
General Motors Corp. sold 23 percent of the new vehicles bought in the U.S. last year. That's more than anyone else, but it's about half of what GM's market share was in 1980. As it struggles to remain viable with the help of federal loans, the company is looking to scale back brands and models while pursuing a new line of electric cars.
The nation's biggest automaker is staying alive thanks to $13.4 billion in federal loans.
The government is concerned that the money will be paid back, that the U.S. auto industry will be viable over the long run and that companies meet future fuel-economy requirements, notes GM Chief Executive Officer Rick Wagoner.
But first, GM has to be restructured so it can become profitable again. That means, in part, that GM plans to scale back its brands and models. GM makes significantly more brands and models than Toyota, for instance. Critics have said GM sells too many different kinds of cars and has too many different dealerships.
"One of the things reflecting a reality of a lower U.S. industry — it does require us to not just consolidate the number of manufacturing plants and engineering centers, but also dealer networks," Wagoner tells Robert Siegel. "And we indicated we were reviewing several brands and deciding what their future's going to be."
Even if GM cuts back models, it is pursuing new ones. At the North American International Auto Show in Detroit this week, GM has been talking up electric vehicles, including the Chevy Volt.
"My own view is that the opportunity for these [electric cars] to develop into high-volume vehicles is good," Wagoner says. "But to be honest, it's going to depend on our ability to work on things like getting the cost down and it's going to be very much dependant on government policies which support the growth of electricity in vehicles."
Wagoner says electric cars are very expensive to make. Even if the Volt rolls out in 2011 or 2012, as a new technology its cost will be "significantly more than the consumer will be willing to pay for." That means GM will have to take losses on the vehicle in order to advance the technology, Wagoner says.
At the 1997 auto show, Wagoner told reporters he was aiming to gain 33 percent of the market share, but the company is still at 23 percent. But GM has expanded its manufacturing base worldwide during that same period, Wagoner says, and that has put it in a good position.
"I actually feel confident that GM is going to be very well-positioned to compete in the future in the U.S. and around the world," Wagoner says. "...We've grown from basically no business in the fastest-growing market in the world in China to be the No. 1 non-Chinese manufacturer there. We have the leading position in important growth markets in South America, like Brazil. We moved ... from a position of basically no sales to be the No. 1 non-domestic player in a big growth market like Russia. I think we've demonstrated that on a level playing field, we can compete with anybody."
One of the main burdens that dragged down the company's ability to invest in the market to support its brands and products over the last 15 years, Wagoner says, is $103 billion allocated to retired workers' health care and pensions. Wagoner says GM has restructured agreements with the unions over the last several years, so this issue is "now pretty much behind us."
"So I think, going forward, we'll be able to compete on a more level playing field," he says.