Geithner's Stumble Points To Tax Complexity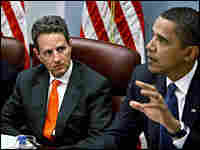 Chip Somodevilla/Getty Images
If Treasury Secretary designate Timothy Geithner, who owed $34,000 in taxes until he recently paid it off with interest, can't get his taxes right, then there may be serious flaws in the U.S. tax system.
That's according to tax experts who say the system is too convoluted and needs to be simplified.
If Geithner, who will oversee the Internal Revenue Service, "can't fill out the tax forms correctly, then we need some fundamental simplification and reform of the taxes," says Bill Ahern at the Tax Foundation, who has been following the tax system for 21 years.
Some say Geithner knew what he was doing: "He's an example of a noncomplicated situation that he is pretending is complicated," says Bob McIntyre, director of Citizens for Tax Justice.
But Robert Gibbs, the incoming press secretary for President-elect Barack Obama, said Geithner made "honest mistakes" and quickly addressed them.
"It's hard to necessarily blame public officials like Geithner ... for having these arcane tax matters come up, but it is easy to blame them for not simplifying the code and admit even they are fallible," says Pete Sepp, the vice president for policy at the National Taxpayers Union. "It should serve as an indictment of the system and their failure to change it."
More Paperwork For The Self-Employed
The tax system's complexity is coming into focus as more and more people are starting their own businesses and consultancies and unemployment soars. In a March 2007 survey by the Tax Foundation, 83 percent of people said they thought the tax system is "somewhat or very complex."
What made Geithner's situation particularly unusual was that he worked for the International Monetary Fund, a tax-exempt organization, and because he was a contract employee, he was considered self employed. So he had to pay both the employee's half and the employer's half of the tax.
"I would have thought that someone in Mr. Geithner's role and in his position would have been aware that this responsibility is upon him, particularly since he acknowledged that in a statement that he signed authorizing the IMF" to cover his tax payments, Donald Williamson, the chair of the accounting department at American University, told NPR. "That said, those returns he did were self-prepared and sometimes it's difficult to properly prepare them, and a mistake was made."
The complexity extends to others who are considered self-employed from a tax perspective, such as partners at firms who own a stake in a company, or people who own a consultancy on the side, Sepp says. And typical households increasingly face "a whole lot of paperwork," especially if they have mutual funds, he says.
"If the average wage earner knew how much trouble tax compliance was for a self-employed person — they might be more sympathetic," says Ahern, of the Tax Foundation.
Simplifying And Enforcing
So, what would it take to change the system?
Ahern says doing away with several credits, deductions and exemptions would simplify the process.
"That probably means more consumption taxes and less income tax and fewer loopholes in the income tax through credits, deductions and exemptions," he says.
McIntyre, of the Citizens for Tax Justice, agrees, but also says people need to feel like they're not the only ones following the laws.
"You have to revitalize the IRS, increase the penalty for cheating, fix the laws so it's easier and clearer to follow," McIntyre says. "And give people some confidence that other people in their situations are paying their taxes, too. That's really important."
Enforcing compliance is one way to give people confidence in the system and make it work, he says.
"It's a two-edged sword," McIntyre says. "If you reveal some outrageous tax cheating, you better crack down on it. Never expose a problem unless you can crack down."
Will Obama Simplify Taxes?
It's unclear whether overhauling the tax system will be a priority in the Obama administration.
In a document, the Obama/Biden campaign proposed to simplify tax filings so "millions of Americans will be able to do their taxes in less than five minutes." Under the system, the government would send prepared tax forms to taxpayers for them to verify, sign and return.
But a similar program in California proved that such a measure may not be successful, according to the Tax Foundation's Ahern. In 2005, the state mailed out 52,000 forms and only 11,600 were returned. The state found mixed results, and the program is ongoing.
"We're certainly overdue" for tax reforms, McIntyre says. "There's a lot of things to do this year. I can't imagine that would be high on the list."
Geithner's confirmation hearing was postponed to Wednesday, the day after the inauguration.