Biracial Family Looks Back At A Big Hurdle
Biracial Family Looks Back At A Big Hurdle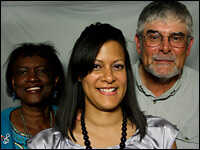 Questions Or Comments?
Brad Guidi and his wife, Willa Woodson Guidi, met in 1970 at Bradley University in Peoria, Ill. He came from an Italian-American family; she is African-American.
Recently, they spoke with their daughter, Tasha, about the early days of their relationship.
The two were introduced by a mutual friend — and their relationship grew in the months that followed.
But there was plenty for them to learn about each other. Brad recalls that before he went to college, "I knew two African-Americans in my life. And that was Hank Aaron and Willie Mays."
They also faced the question of when to tell their parents. The news was not well received.
"At the best, it was considered a death in the family," Brad said of his parents' reaction.
Willa's parents were a bit more open to the idea of their daughter marrying a white man.
"My mother's reaction was, 'Well, do you think we're excited about it?' " Willa said. "And then my dad was like, 'Well, they're gonna do what they're gonna do — and I gotta go to work.'
"And I remember Brad's mom saying, 'We could learn to love you,' Willa said. "And his dad said, 'Oh, no, we couldn't.' "
The reaction wasn't universally negative. Brad's aunts, for example, were receptive to the couple; they had experienced bigotry themselves, growing up in an era when Italians were openly discriminated against.
"To them, it really wasn't as big a deal as it was to the next generation that was born in the United States and had grown up and not experienced that discrimination that they had," Brad said.
But the tide began to turn, the couple said, when the possibility of a grandchild arose.
"Once I became pregnant, Brad's mom just stepped up to the plate," Willa said. Tasha was the first grandchild in her family.
"Once you were born, that's when everything turned around," Willa told her daughter.
"Seeing a child or seeing a grandchild, they see themselves," Brad said. "So now they understand that this is blood. You know, this is family."
Brad said that in his daughter, their relatives could see that their lives were all mixed together.
"To me, that's the bottom line," he said. "If you have that strong family relationship, you can handle just about anything."
Produced for Morning Edition by Katie Simon. The senior producer for StoryCorps is Michael Garofalo.