Ferry Boats Used In US Airways Rescue
Ferry Boats Used In US Airways Rescue
US Airways Flight 1549 went down in a relatively shallow portion of the Hudson River. The crash site was right next to the ferry boat terminal, and the vessels could be used in the rescue efforts. A witness said everyone got off the plane alive.
MICHELE NORRIS, Host:
From NPR News, this is All Things Considered. I'm Michele Norris.
MELISSA BLOCK, Host:
NPR's Robert Smith spent the afternoon and part of the evening out at the scene of the rescue efforts. He joins us now from our New York bureau. And Robert, what more can you tell us about what happened to this flight soon after it took off?
ROBERT SMITH: Now there's enough time that the pilot, we've heard, called in to to see if could make a landing at Teterboro Airport in New Jersey. But as he's turning around, and at this point, he's over one of the most densely packed parts of the nation, New York City, he apparently can't make it to Teterboro and makes a landing in the Hudson River. And you notice I didn't say crash landing because from all indications, this man set down this plane, if not in a gentle way, at least a controlled way, and that was one of the things that helped save lives.
BLOCK: Yeah, one of the passengers on the plane is quoted as saying, "The impact wasn't a whole lot more than a rear-end collision." Robert, dramatic scenes today of rescue of the people on this plane as the plane was partly submerged in the water.
SMITH: And I talked to some of the captains there. They train for this every single month - pulling people out of the water. And when they arrived, they were taking people off the plane wings, off of a rescue raft that had come out of the plane, and there were a couple of people in the water. There were also some police divers, they had to go in the water and pull people out of the water. But despite all of that, very few injuries - some hypothermia, a couple of broken legs, but that's about it.
BLOCK: That's remarkable. And what more can you tell us about the pilot on this plane?
SMITH: His name is Chesley "Sully" Sullenberger, that's what we're hearing, from Danville, California. He's 58 years old. He's a 29-year employee of US Airways, and get this - he's a safety consultant. He has his own firm called Safety Reliability Methods. We talked to one safety expert who said, if I was on that airplane, I would want Sully on the flight deck in charge.
BLOCK: NPR's Robert Smith speaking with us from New York. Robert, thanks very much.
SMITH: You're welcome.
NPR transcripts are created on a rush deadline by an NPR contractor. This text may not be in its final form and may be updated or revised in the future. Accuracy and availability may vary. The authoritative record of NPR's programming is the audio record.
US Airways River Rescue A 'Miracle On The Hudson'
Safety Reliability Methods/AP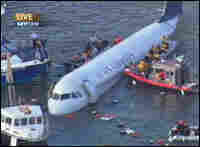 New York Gov. David Paterson called it a "miracle on the Hudson."
Minutes after taking off from New York's La Guardia Airport on Thursday, US Airways Flight 1549 was forced to make an emergency landing in the icy waters of the Hudson River after the jet lost power. Emergency crews and rescue workers descended on the river and were able to get all 150 passengers and 5 crew members out safely.
The pilot of the Airbus A320, identified as C.B. "Sully" Sullenberger, is being hailed as a hero.
The plane took off at 3:26 p.m. en route to Charlotte, N.C., and went down minutes later, according to a Federal Aviation Administration spokeswoman. It landed in the river near 48th Street in Manhattan.
National Air Traffic Controllers Union spokesman Doug Church said a US Airways pilot reported a "double bird strike" less than 60 seconds after takeoff. The pilot planned to make an emergency landing at the airport in Teterboro, N.J., but instead went safely into the Hudson.
The FAA spokeswoman, Laura Brown, said the plane may have been hit by birds, but the cause of the crash has not yet been determined. The National Transportation Safety Board has already begun its investigation.
Passengers reported hearing bang or thud-like sounds from the engines shortly after takeoff. Almost immediately after the apparent failure of both engines, the pilot told passengers to "brace for impact."
Sullenberger, a former Air Force fighter pilot with more than 40 years of flying experience, was able to glide the plane into the water. Passengers reported that the emergency exits were opened quickly, and many people were able to scramble onto the wing and into life rafts. Others were able to walk directly onto ferries that had swarmed around the wreck and quickly became rescue boats. One ferry boat captain reportedly rescued at least 30 passengers.
A relatively small number of passengers were forced into the frigid water, but they too were quickly rescued.
Several passengers were taken to local hospitals, where some were treated for hypothermia.
At a late afternoon news conference, New York Mayor Michael Bloomberg called the rescue effort by New York, New Jersey and federal officials and other rescuers "fast, brave work."
Bloomberg said he had spoken with Sullenberger, who told him he walked the length of the plane twice to make sure everyone got out safely before he exited the plane.
Sullenberger of Danville, Calif., also runs a safety consulting firm called Safety Reliability Methods. One safety expert said of the pilot, "If I was on that airplane, I'd want Sully at the flight deck in charge because he knows how to do it right."
Families and friends of those on the flight seeking information can call (800) 679-8215 or go to www.usa.att.com/traveler.
With reporting by Wendy Kaufman, Linton Weeks, Margot Adler and The Associated Press.