D.C. Dispatches: From The National Mall And Parade
UPDATED: 4:21 p.m. EST
What To Wear? Anything Goes!
Cowboy hats, crazy fleece, furry Russian hats, backward baseball caps — the variety and colors of headwear on the Mall reflect the multicultural atmosphere of the inauguration. — Linton Weeks
Full Coverage
Find photo galleries, video, live chats and up-to-the-minute reporting and analysis of Inauguration Day.
More Dispatches
NPR reporters offer updates throughout the day from: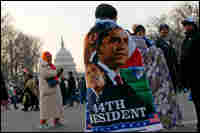 William B. Plowman for NPR
William B. Plowman for NPR
William B. Plowman for NPR
A massive crowd that extended more than two miles from the Capitol to the Lincoln Memorial in Washington, D.C., gathered to watch Barack Obama's swearing-in on Tuesday.
Many inauguration-goers were draped in Obamarabilia, and some waved American flags. They huddled together for warmth and sang songs, with hope and optimism a frequent theme. Later, revelers screamed and cheered for the new first family along the inaugural parade route.
NPR reporters brought us scenes from the crowd, which started arriving on the Mall before dawn and stretched all the way to the Lincoln Memorial by 11:30 a.m. Here's some of what they saw:
4:21 p.m. From Andrea Seabrook, At Freedom Plaza:
President Obama, first lady Michelle Obama, Malia and Sasha could all be seen inside the limousine as it passed, laughing, grinning and waving.
Crowds screamed and cheered, pumping the air with fists and waving flags ecstatically.
After the first family passed, though, people began streaming toward the gates, too cold, perhaps, to wait for the bands, floats and other well-wishers that will come in the parade.
4:13 p.m. From Michele Norris, Near The Canadian Embassy:
Right now, there's a lull in the action. We've had a number of military vans go by, and we're waiting to see most of the states' entertainers, bands, equestrian groups.
When the motorcade had moved past the embassy, the Obamas walked a block or two hand in hand to the delight of the crowd. Their daughters are still in the car.
You may see them all jump out again, but certainly when they get closer to the White House at a very elaborate viewing stand.
The mood is celebratory, as much as you would expect at the parade.
4:13 p.m. From Andrea Seabrook, At Freedom Plaza:
Along the inauguration parade route, a rising wind whips hundreds of American flags. The red and blue lights glitter as the president and his escort near the White House. A crush of people pack the rim of Pennsylvania Avenue waiting for a glimpse.
3:55 p.m. From Linda Wertheimer, Near The National Gallery Of Art:
The president is passing the National Gallery of Art. Everyone is hoping this will be the moment he gets out of the car and speaks to people along the route. The cars are moving very slowly, with the Secret Service walking alongside them. The crowd is shrieking as they see Obama's car. He's coming to a stop. He may be getting out here? Nope, maybe not.
3:12 p.m. From Margot Adler, the Freer Gallery, National Mall:
With 19 degree temperatures and a fresh wind blowing dust on the Mall, people who find access blocked due to the parade are seeking shelter where they can. The Freer Gallery almost feels like a refugee camp with people sitting on the floor, eating, occasionally even looking at art.
Dave Kashen from Baltimore has an American flag sticking out of his backpack.
"Thank God the museum did this," Kashen says. "I don't think I could have stood another minute."
1:38 p.m. From Andrea Seabrook At Freedom Plaza:
Between the Capitol and the White House, people are dancing and celebrating.
"The scene here is just lovely," Andrea Seabrook tells Steve Inskeep. A woman in a long fur coat is leading people in a celebratory line dance as music from Stevie Wonder and Bruce Springsteen comes over the PA system.
One woman in the crowd says that dancing in the streets "is a sign of good things to come," and another African-American woman in the crowd says she was proud of how many white people voted for Barack Obama.
"It's an inspiring moment for those in the crowd," Seabrook says.
1:32 p.m. From Corey Flintoff, Third And Madison Streets:
As the crowd swirls away from the front of the Capitol, Jebet Kibogy of Kenya turns in a slow circle, displaying the Kenyan banner across her shoulders.
"You see," she says, "it has Obama's picture, with the Kenyan and American flags."
Kibogy is coy about whether she has any relationship to the Obama family. "I'm not saying," she says with a laugh.
The banner reads, "Hongera Obama. Sisi wakenya twajivunia."
"It's Swahili," Kibogy says. "It means, 'Congratulations Obama. All Kenya celebrates with you.' "
1:12 p.m. From Audie Cornish, Near The Lincoln Memorial:
As hundreds of thousands of people filter out of the national mall to make their way to the parade, NPR's Audie Cornish spoke with Robert McCrary of Nashville, Tenn.
"I think one of the things that stood out more than anything was when our new president spoke about pride and the promise of freedom," McCrary says. "What is a given is that so many Americans and so many people around the world want him to be a great president."
Although Obama talked about tremendous challenges in his inaugural address, McCrary says he thought the speech struck a positive, optimistic tone.
"He's expecting all of us to rise to those challenges," McCrary says.
"He was speaking to the naysayers, to the detractors... I think he was calling us to the challenge to be as great as we can be."
1:05 p.m. From Corey Flintoff, Mall, Third And Jefferson Streets:
During the John Williams composition, people mill around, moving to their own rhythms of excitement and anticipation. The crowd laces in and around, unable to keep still.
The oath of office, when it comes, seems muffled and short.
People need the shock of the cannon salute to wake them into a cheer. When it comes, it is strong and sustained, punctuated by cannon thuds that are felt in the chest, rather than heard.
The new president's voice is loud and clear, and finally people stop milling around and listen.
12:45 p.m. From Ari Shapiro, The National Mall
One of the things that struck me most standing in the crowd was that some of the lines from President Obama's speech that got the loudest cheers were the lines about the work we need to do and the call to service. Those were the lines that got people shouting the most.
12:14 p.m. From Ina Jaffe, The National Mall:
The Mall JumboTrons are out of sync with the sound. Supreme Court Chief Justice John Roberts' voice appeared to come out of President Barack Obama's mouth, making the speech a treat for lip readers.
But absolutely no one here cares.
12 p.m. From Linton Weeks, The National Mall:
Everywhere you turn, people are draped in Obamarabilia — caps, jackets, buttons. They chant his name and wave American flags when he appears on the JumboTron. Christa Overton of Cincinnati buys two Obama magnets from a roving vendor. But the real magnet today is Obama. Asked how she feels, Overton says, "I can't explain it."
11:51 a.m. From Andrea Seabrook, Along Pennsylvania Avenue
Thousands of people lined up along Pennsylvania Avenue bowed their heads as Pastor Rick Warren prayed.
11:39 a.m. From Linton Weeks, Freer Gallery Of Art:
When the Freer Museum opened its doors this morning, tired, huddled masses poured through. They sit along hallway walls and flood the galleries. Some go straight to sleep on the floor.
In the Peacock Room, Laquinthia Williams, a 35-year-old court probation officer from Houston, relaxes and warms up on a bench.
"I'm five months pregnant," she says. "My mom is terminally ill with cancer. She never thought she'd live to see a black president. I am here to see it for her."
11:32 a.m. From Audie Cornish, Near The Lincoln Memorial:
NPR's Audie Cornish says the crowd on the National Mall stretches all the way to the Lincoln Memorial.
11:20 a.m. From Neda Ulaby, Near The Capitol:
Celebration is tempered with disappointment outside the Purple Gates at First St. NW and C St. NW, where unused tickets are beginning to litter the streets, along with used-up hand warmers and shreds of newspapers.
Earlier this morning, a mob of people broke through the entrance for handicapped visitors, according to a U.S. Capitol policeman who declined to be named. He told a crowd of distressed ticketholders that the gates were then sealed. No one is getting in. There are tears. People speak of waiting in line in a tunnel since 4 a.m. A park policeman is telling people to find a bar where they can watch the ceremony on TV.
11:19 a.m. From Ina Jaffe, Near The Washington Monument:
The words "Ladies and gentlemen, please sit down" got a big laugh from a packed crowd near the Washington Monument. We couldn't sit down if we wanted to.
11:02 a.m. From Debbie Elliott, U.S. Capitol:
Members of Congress and governors are now taking their seats behind the inaugural stand. The congressional delegation is led by House Majority Whip James Clyburn, who called today a "validation" of Martin Luther King's dream.
Clyburn is a former South Carolina history teacher and is a veteran of the civil rights movement. He said that, even as he taught black students they could be anything they wanted, he didn't really believe it. Until now.
11:01 a.m. From Joanne Silberner, GWU Hospital:
Early reports from area trauma centers indicate so far things are peaceful. At George Washington University Hospital, where Ronald Reagan was taken after he was shot in 1981, the emergency room is unusually quiet. ER doctor Bruno Petineaux says he thinks some people who might normally come in with health needs are at the various events and ignoring all but the most urgent medical problems. Or they're home in front of their TVs, figuring it wouldn't be very easy to get in to a hospital.
A press person from the command center at Washington Hospital Center says they haven't seen anyone come in with hypothermia, an initial concern with today's chilly temperature.
10:55 a.m. From Audie Cornish, Near The Lincoln Memorial:
The crowd by the Lincoln Memorial has been calm. Most people are sitting now — just buckling down and waiting.
One person huddled in the cold by the monument is Susan Thompson of Wilmington, N.C. Thompson decided at the last minute to travel to Washington, D.C., for inauguration festivities after watching news coverage on Sunday.
She says he has optimism for the Obama presidency.
"I'm hoping he will reunite us as a country," Thompson says. "I feel that we've been very fractured and partisan... We all have hope."
10:53 a.m. From Corey Flintoff, First And D Streets:
People are packed in close around black SUVs that are stalled in the traffic. Their engines provide a source of heat for some. It's not even clear to most people whether they're actually near a gate into the Mall. They're taking it on faith that the people up ahead must know where they're going.
Ouida Vincent, from Atlanta, Ga., stands on a plastic milk crate, trying to get some idea of what's going on. She looks down at her mother, Ruth Vincent, and shakes her head. "They're not moving," she says.
Ruth Vincent, a retired financial services officer, is carrying a milk crate, as well. She says she doesn't expect to see much "beyond a few scenes, but we're here. That's what counts. We're living in the moment."
A dozen yards away, people break out singing "The Star-Spangled Banner." Ryan Robinson, 29, has created a little clearing in the crowd, and he's gleefully conducting a choir that gets bigger with every line of the song. It's probably safe to say that some of the singers have no idea who's leading them, or why they're singing, but they, too, are living in the moment.
Robinson says he's a community organizer from Washington, D.C., and that he's worked on the Obama campaign. He's here, he says, "because this is something we're going to tell our grandchildren." Robinson says it doesn't really matter whether the crowd moves on. "If I just heard him speak from here, I'd be happy."
10:51 a.m. From Andrea Seabrook, Pennsylvania Avenue:
Here on Pennsylvania Avenue, halfway between the Capitol and the White House, the parade route is lined with Marines and police officers. In some places, the authorities stand shoulder to shoulder, keeping the crowd from pushing onto Pennsylvania Avenue. Police cars and black Suburbans drive up and down the street, as President Bush and President-elect Barack Obama prepare to make their way to the Capitol.
A giant loudspeaker is set up here, and people lining the street are dancing and cheering.
10:51 a.m. From The Washington Metropolitan Area Transit Authority:
Metrorail service on the Red Line in Washington, D.C., was delayed earlier this morning when a woman fell on the tracks at the Gallery Place-Chinatown station.
According to the Washington Metropolitan Area Transit Authority, the 68-year-old woman was transported to a local hospital with injuries that are not life-threatening.
Normal service has resumed on the Red Line, but there are still major delays.
10:45 a.m. Laura Sullivan, Near The Washington Monument
It's totally jammed," Sullivan says. "And a number of people have been passing out."
The D.C. Health Department center has dealt with many cases of hypothermia this morning. It is not accepting any new patients, except those who are unconscious.
Patients with the most severe cases of hypothermia have been taken to the hospital. Ambulances are lined up near the Mall to transport any new patients in a hypothermic state.
Others who are feeling cold and weak are trying to make their way into museums to get warm. It seems that many of the cases of hypothermia are developing in people who have been camping out in the mall since 2 or 3 in the morning.
10:39 a.m. From Washington, D.C., Metro:
The Washington Metropolitan Area Transit Authority notes that the subway system has carried 469,873 passengers as of 10 a.m.
10:35 a.m. From Audie Cornish, Near The Lincoln Memorial:
Families are clumped around the Lincoln Memorial, even though it's so far away from the main action today. They're spread across blankets in front the pair of JumboTrons set up at the site.
"It's definitely Team Obama out here," NPR's Audie Cornish says. Hats, flags and other products featuring Obama's likeness are visible around the monument. And one bonus to being so far away is that there is easy bathroom access.
The mood here is "pretty quiet and reflective," Cornish says.
Cornish spoke with two or three people today who expressed a sense of relief that Inauguration Day has finally arrived. They say they're ready to move on to the next phase. Even the folks who don't seem so sure about Obama are feeling a "dose of hope," she says.
10:21 a.m. From Ari Shapiro, The National Mall:
There were already thousands of people swarming into the Mall hours before dawn. People were lying down, taking little naps on the grass. Now, thousands and thousands of people swarming the National Mall are waving American flags. JumboTron screens are blaring.
People are climbing on the monuments. Some of the entrances to the Mall have been closed off.
One spectator speaking with NPR's Ari Shapiro is Willy Wright. Both of his parents were community organizers from Cleveland, Ohio.
"Being an African-American male, I'm excited to see this happening," Wright says. "But I'm really watching this event through the eyes of my mother."
Wright's mother is watching the festivities from home today — keeping warm. He says she was from the South and remembers the days of segregation.
"For her to see this, to experience this, it is just way, way huge," Wright says. "I'm seeing the jubilation, the faces and flags... For elders of our community, this is way huge, because they thought they would never see something like this in their lifetimes."
The day is momentous for younger African-Americans, too.
"For our kids, of course there is a sense of pride," Wright says. "It knocks down all of the barriers, all of the crutches... This could be your destiny as well... Hopefully, there will be more African-American, women and Latinos running for this office."
10:15 a.m. From Corey Flintoff, Hyatt Hotel:
At some point, every entry to the National Mall fills up, and inauguration-goers find themselves afloat in a sea of people. At the Mall entrance at First and D Streets, people are shoulder to shoulder for blocks. No one knows quite when they're likely to move, but many of them are making friends.
Jim Bob Kaufman, a Sacramento architect, is here with his wife Amy, a teacher. They flew in on Friday and stayed the weekend in Virginia. The Kaufmans say they've been Obama supporters, but not exactly activists. They know chances are slim that they'll see the president-elect in person as he takes the oath, but "we lucked into tickets for one of the balls, so we're hoping to see him there."
There's a surge of movement in the crowd, a murmur and a sudden sparkle of camera flashes near the back entrance of the Hyatt Hotel. Someone yells, "Jesse, Jesse!" and sure enough, civil rights activist Jesse Jackson appears, rippling through the crowd. He rises up, standing on something just long enough to wave before disappearing into the building.
There's a collective sound of satisfaction from the crowd. People seem reinvigorated, ready to believe that anything can happen.
10:01 a.m. From Laura Sullivan, On The Western Part Of The National Mall:
The D.C. Health tent is swamped with hypothermia cases. That's a condition when more heat escapes from one's body than one's body can produce. The D.C. Health Department isn't accepting any new patients in this location, just urgent medical cases.
10 a.m. From Frank Langfitt, RFK Bus Parking Lot:
The RFK bus parking lot was peppered with vendors this morning. One man was selling T-shirts featuring President-elect Barack Obama as a superhero dunking a ball.
"They don't really care if they can see the president-elect today," Langfitt says. The important thing, he says, is just to be in Washington, D.C., on this historic day.
Although some people seem to be keeping warm on their way to the shuttle bus, some have turned back because of the cold.
Elizabeth Robinson, 66, is a traveling nurse who had been on the Mall for about four hours. She decided she had to head back.
"We're going back to the bus right now," she says. "We got extremely cold. We had one child that got chilled."
The bus has a television. Many will probably stay on the bus and watch the festivities on TV rather than on a JumboTron as they shiver in the cold.
9:56 a.m. From Washington, D.C., Metro:
Metro reports a disruption at the Gallery Place-Chinatown Metro stop in downtown Washington in both directions. Expect delays in both directions, due to a 68-year-old female possibly struck by a train at the Gallery Place station. Metro Police and other officials are on the scene.
9:49 a.m. From Allison Keyes, On U Street NW:
Just before Ben's Chili Bowl opened around 7:15 a.m., Dedrick Wilmer of Houston, Tex., and his 7-year-old son stood in a line of beaming people waiting for this historic Washington institution to open.
Wilmer knew President-elect Obama was here recently — and, in fact, there's a picture of him on the front door. Wilmer said this was a must-see stop on his family's visit here. People standing in line nodded as Wilmer spoke of his excitement at seeing the inauguration of a president "without a personal vendetta," who wants to inspire others to get involved in the political process. Wilmer says he hopes Obama inspires others to be "their brother's keeper and their sister's keeper."
9:43 a.m. From Corey Flintoff, New Jersey And D Streets, Near The U.S. Capitol:
Most of the people funneling toward the National Mall will tell you that they've been Obama supporters from the very beginning. Deborah Cheatam of Jersey City, N.J., says she knew Obama "had it all, the full package" when she saw him speak at a teachers' convention. She and her husband, Ed, stayed in Baltimore overnight, but she says they didn't sleep much. Ed says they're running on excitement now.
Jayne Merritt of McLean, Va., shepherds her four children through the crowd. Merritt is a tall woman in a long black coat and a dressy black hat, and her children are seen only as pink knit caps at about elbow height. She says that she and her family were McCain supporters, but they're here "for the history."
Merritt's friend, Kay Baly, is down from Pennsylvania for the event. She says it's a happier atmosphere than at President George W. Bush's second inauguration. Then, Baly says, there were angry demonstrations by protesters.
On New Jersey Avenue, close to the Capitol, Rev. Darryl Gray stands in the midst of about 20 people, wearing or waving Canadian flags. Gray is the pastor of the Imani Family Church in Montreal, and he says that he and his parishioners wanted to be part of history.
"Let's face it," Gray says, "where America goes, Canada is usually pretty close behind. We do have a vested interest in who makes the policy here." The Imani church group has been traveling since early yesterday to get here. Gray says they arrived at about 5 a.m. Unlike many visitors, the Montreal natives are unfazed by the cold.
9:38 a.m. From Margot Adler, The National Mall:
I am in the throngs. People are very festive, often jumping up and down or dancing to escape the 20-degree temperature.
Many people here say they can't believe that Obama will be president. Dorothy Height calls herself a civil rights freedom fighter — at 13, she says she marched in Alabama for civil rights. Now, at 58, she jumped up and down, saying over and over, "We shall overcome," singing the old freedom songs to keep warm.
I came on a bus from Rochester, N.Y., with African-American barbers, preachers, sanitation workers and nurses. But the crowd is so big, we lost each other. Some smart groups wore the same colored jackets, or their leaders carried flags like European tourists.
9:37 a.m. From David Welna, Red Line/Metro:
Each day, I take the Metro subway from Bethesda for my nine-mile commute to the U.S. Capitol. But, like many others headed to the inauguration today, I'd considered walking to avoid a crush on the Metro. So what a surprise when I descended the escalators at the Bethesda Red Line Metro station to find the passenger platform nearly empty!
It was 8:10 a.m., and at that time on a normal weekday, it would have been two-thirds full of passengers waiting to board the trains. The first train heading downtown to arrive was packed. But the next one, two minutes later, was nearly empty. It did fill up as we got closer to the Mall, but no one seemed to mind. Everyone, it seemed, was having too much fun to care.
A woman in my train car announced to fellow passengers that she had an extra ticket for the exclusive closed-in area on the west side of the Capitol. But she had to repeat the offer three times before getting a taker — most people seemed more intent on hanging with their groups than on grabbing that prized ticket to get a closer look at the swearing-in ceremony.
9:34 a.m. From Larry Abramson, 14th Street Bridge:
On ordinary days, the 14th Street Bridge is a freeway — or, during rush hour, a parking lot. But today, pedestrians, cyclists and roller bladers are pouring across the pedestrian walkway. They have biked up from Alexandria, Va., or they've flown in from Kansas City, Mo., and then took the Metro to the Pentagon.
Everyone has the story of some circuitous route they have fashioned. They trek over the bridge and gaze down at the frozen river. Nearby roadways are blocked off by a menagerie of vehicles, loaders and plows and flashing police vehicles. It looks like a picture from a Richard Scarry children's book. In the background, the pentagon looms. This has been the scene of tragedy before — the Sept. 11 attacks, the Air Florida crash.
Today, the bridge is a gateway home.
9:26 a.m. From Laura Sullivan, The Capitol:
At the area immediately around the U.S. Capitol, the scene is chaotic just hours before the inauguration of Barack Obama.
People have been streaming into the city since well before dawn, but a large crowd is backed up around the Capitol with lots of pushing and shoving. Only 20 people at a time are permitted to cross the parade route.
9:20 a.m. From Neda Ulaby, New Jersey Avenue:
New Jersey Avenue is a major D.C. thoroughfare — you can take it all the way to the National Mall. Usually, it's filled with grim-faced commuters in cars. Right now, it's filled with streams of people, walking with a palpable sense of solemnity and purpose.
One lady has set up a hot-chocolate stand outside her house near New Jersey and M Street NW. The hot chocolate is free. She's hung bunting all over the house and the stand, and covered the table with little golden angels.
Another neighbor brought his boom box, and he's blasting vintage soul.
"Free hot chocolate!" the lady yells.
Three young white women in brightly colored scarves and fleece jackets are clustered around the hot-chocolate stand, giggling in excitement and chatting with two older African-American men in heavy dark overcoats and hats. Everyone — even the clusters of National Guardsmen standing nearby — is grinning.
8:30 a.m. From Linton Weeks, The National Mall:
The trick on the mall is to find a good viewing spot and stay warm at the same time, says Faye Brewer, 67, of Chicago. She's sitting on a folding stool. Others huddle on benches or the hard frozen ground. Some perch in a tree near the Smithsonian castle and some clamber atop dumpsters. "It's worth the cold," Brewer says.
7:56 a.m. From Linton Weeks, 3rd Street Tunnel:
For thousands of people, the Third Street tunnel served as a wormhole under the parade route to the National Mall. Jonice Crawford Wilson, 59, of Southfield, Mich., said, "I'm glad Obama was elected, but I am too old to walk this far." Someone else shouted, "I see the light at the end of the tunnel!"
7:15 a.m. From Ari Shapiro, The National Mall:
Thousands of people — everybody with American flags, everybody in high spirits — are watching the sun come up over the illuminated Capitol.
Sarah Sorden of Delaware has been here all night, and is celebrating her 52nd birthday this morning.
"I am so happy to be here," she says. "I just can't wait to hear what [President-elect Obama] has to say to the nation, but most of all, I'm just so glad that we have come together as a nation."
Sorden says she's not bothered by the chilly weather.
"I don't feel no cold. I am so excited, I don't feel no cold," she says. "It's my birthday; I'm going to see Obama; I'm from Delaware and [Joe] Biden is up there — hey, what can I say?"
JumboTrons are spread all across the Mall with people gathered in front of them, getting front-row seats. The screens just turned on in the last hour, and the moment they lit up, everybody let out a cheer. The crowds are gearing up for what people describe as a once-in-a-lifetime experience.
6:30 a.m. From Corey Flintoff, Seventh And F Streets NW:
People are already moving purposefully toward the flashing police-car lights on Seventh and F Streets, largely ignoring the vendors of Obama memorabilia on their way to the National Mall.
Vendor Ron Phillips shows only about a half-dozen gaps in his board of $5-a-pop Obama buttons. Phillips, 40, is a truck driver who has been following the Obama campaign during the off-season, selling buttons and banners. Phillips, a native of Springfield, Ill., where the Obama campaign started, has the weathered look of a veteran of a lot of outdoor campaign venues.
Erma Barnes, 59, is having even less luck with her Obama sweatshirts and jackets. "We're too far back from the Mall," she says. "People are hurrying by, wanting to get up there first." Barnes, from Chicago, seems likely to do better as the day wears on. Some inauguration-goers are dangerously under-dressed in weather that's barely above freezing. Those fleecy pink Obama sweatpants may look better to young women in short skirts and tights.
Closer to the Mall, crowds are backing up and they're more inclined to buy. The vendor selling "Barackulars" doesn't have time to talk. "Barackulars" are folding cardboard binoculars that may or may not be able to focus on the president-elect as he takes the oath at the distant Capitol.
So far, the vendors moving the fastest are the ones selling pocket handwarmers.