Birds of Spring Fill Ohio Skies After Cold Snap
Commentator, author and bird lover Julie Zickefoose provides an update on the birds of spring — and how they fared during an unseasonable cold snap a few weeks ago, when temperatures dropped to the 20s at night and 30s by day at her home in Whipple, Ohio.
Zickefoose was concerned that the migratory birds might not be able to find enough food during the cold spell.
But she tells Melissa Block that the birds stayed put down south — and followed the re-emerging leaves north. The birds are arriving now in one great front, albeit later than usual.
She discusses the many birds she has spotted and photographed in recent days, including the blue-winged warbler, and shares a sad story with a happy ending about a bluebird nest on her property.
The Mysteries of Songbird Migration
U.S. Fish and Wildlife Service
Songbirds may be a familiar sight, but studying their migration patterns is difficult. They travel at night — thousands of feet in the air — defying scientists' attempts to track them.
Bird Songs, Sounds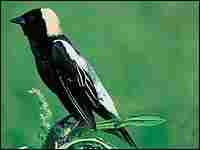 U.S. Fish and Wildlife Service
Gray-cheeked Thrush flight, along the Denali Highway, Alaska, June 1993
Veery flight, Roland Cooper State Park, Alabama., April 1990
Courtesy: Cornell Lab of Ornithology
Bobolink song, Ithaca, N.Y., May 1951
Bicknell's Thrush flight, Whiteface Mountain, Adirondacks, New York, May 1959
Hermit Thrush flight, New York, August 1989
Springtime is a bonanza for birders. That's when dozens of species fly north, from as far away as South and Central America, Mexico and the Caribbean.
Saturday is International Migratory Bird Day. Miyoko Chu, scientific editor at the Cornell Lab of Ornithology and author of Songbird Journeys, talks to Robert Siegel about the many mysteries of bird migration, the life span of songbirds and why you might see a huge concentration of birds in Central Park.