Expert: Quit Smoking Before 50, Cut Health Risks
Expert: Quit Smoking Before 50, Cut Health Risks
Smoking By The Numbers
* People who stop smoking before age 50 cut the risk of dying in the next 15 years in half, compared with those who continue to smoke, according to the American Cancer Society.
* Intermittent smokers — those who smoke, but not every day — are on the rise. One of four smokers in the U.S. is an intermittent smoker and that proportion has grown by 40 percent in a five-year period, according to a 2003 CDC report.
* Smokers have a 24-fold greater risk of lung cancer than those who have never smoked, according to the Surgeon General.
* Ninety percent of lung cancer is attributable to smoking.
* About 2 percent of all lung cancer deaths come from secondhand smoke, according to an EPA study.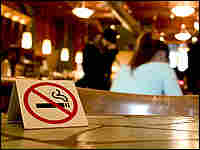 President Barack Obama has promised that he'll obey the federal no-smoking policy and not smoke in the White House. But he has also acknowledged that he has had difficulty quitting cigarettes and has fallen off the wagon at times.
If Obama were to quit smoking — even the occasional cigarette — it would reduce his risk of tobacco-related diseases. In fact, one expert says people who kick the habit before age 50 can substantially cut their risk of dying in the next 15 years.
It's unclear how much Obama smoked in the past. But in his 1995 autobiography, Obama describes living in New York in his early 20s and sometimes going out for a smoke on the stoop of the fire escape on nice evenings. In another passage, he describes lighting up a cigarette after a community-organizing event in Chicago.
People didn't appreciate the full extent of the dangers of tobacco in those days, says researcher Jonathan Samet, chairman of the department of preventive medicine at the University of Southern California.
"It's not surprising that people might think back to their youth and to interactions that, at the time, seemed to have been made pleasant by tobacco," says Samet.
No Safe Levels Of Smoking
Obama's active lifestyle may have lessened his risk of heart disease compared with people who smoke and don't exercise, but Samet says there is no safe level of tobacco use. Evidence suggests that smoking just one to four cigarettes a day puts people at risk.
"Even at that level, there's roughly a doubling of the risk of heart disease for people who smoke that amount compared to people who are not smoking at all," Samet says.
So the bad news is that tobacco poses risks even for light smokers, also known as "chippers." And the risks are higher for people who were heavier smokers earlier in life.
The good news is that giving up cigarettes altogether seems to drastically cut the risk of many tobacco-related diseases.
Kenneth Warner, dean of the University of Michigan's School of Public Health, says that within about three years of quitting, "the risk of heart disease associated with smoking reverts to that of a never-smoker."
Quitting reduces not only the risk of heart attack, but also the risk of strokes, blood clots and chronic bronchitis. For lung and other forms of cancer, Warner says the risk reduction is not as dramatic.
"Cigarette smokers are exposing themselves to more than 50 known causes of cancer every time they're sucking on a cigarette," Warner says.
The Sooner, The Better
There's no way to completely undo the damage that comes from inhaling so many toxic chemicals. But one thing experts agree on is that it's never too late to quit — the sooner, the better.
"People who stop smoking before the age of 50 cut the risk of dying in the next 15 years in half," says Michael Thun, of the American Cancer Society. This is compared to those who continue to smoke.
So if you happen to be, say, 47, take note: There is a benefit in quitting. And experts say living in a house with a no-smoking policy may help enforce the commitment.