Bajofondo Crafts A Tango Rap Ballad
Friday's Pick
Song: "El Anden"
Artist: Bajofondo
CD: Mar Dulce
Genre: World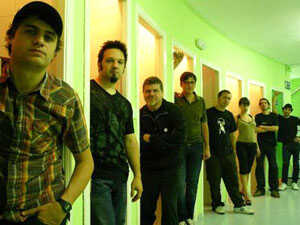 On its recent album Mar Dulce, the South American music collective Bajofondo draws inspiration from the Rio de la Plata, an area bordering the Argentine and Uruguayan frontiers known for its indigenous tango, milonga and candombe music. Throughout the group's bold 17-song album, all three genres are cross-pollinated with electronica for a digitized sound which stays true to its roots, both culturally and musically.
Trip-hop, rock en espanol and even hip-hop turn up in Mar Dulce, and if you're having trouble imagining a tango rap ballad, check out freestyler La Mala Rodriguez as she spits jotas in "El Anden" (The Platform). Her words hone in on a sense of loss — a typical sentiment in Argentine music — as violins and miniature accordions (called bandoneóns) scratch furiously in the background.
It's a fresh approach to the multi-generational music of South America, but it's hard not to expect that from Grammy-winning producer and Bajofondo leader Gustavo Santaolalla, who crafted the heralded scores of Amores Perros, 21 Grams and The Motorcycle Diaries, while picking up Oscars from his work on Brokeback Mountain and Babel. With "El Anden," Bajofondo continues to evolve while advancing the traditional sounds of the Rio de la Plata, creating truly genre-bending dance music along the way.
Listen to yesterday's Song of the Day, and subscribe to the Song of the Day newsletter.