North Carolina Family Takes Carbon Challenge
North Carolina Family Takes Carbon Challenge
The Sheppard family is trying to reduce its emissions of greenhouse gases, but think they can do better. How about you?

As part of NPR's yearlong exploration of climate change, All Things Considered is inviting families to go on a carbon-reducing diet. We are looking for people who want to reduce their impact on the environment by monitoring their greenhouse-gas emissions.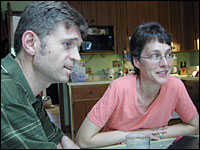 Scott and Claudia Sheppard are among the many people who feel a sense of foreboding about global warming and are trying to do something about it.
The North Carolina couple and their two daughters are taking steps to reduce their carbon dioxide emissions — and they wanted to see how they measure up.
With their daughters Nadia, 8, and Anja, 6, Scott and Claudia Sheppard live in a modest-sized house in a wooded area a few miles from downtown Chapel Hill.
The family is using compact fluorescent light bulbs and hanging its laundry outside to dry. They own two cars: a station wagon and a compact Ford Focus.
Scott Sheppard says that although it's less convenient to have a small car, he uses it for daily commuting. He and his wife swap cars when she has a longer distance to drive.
Doug Crawford-Brown is director of the Institute for the Environment at the University of North Carolina Chapel Hill. He has come to the Sheppards' home to assess their carbon footprint.
Crawford-Brown is impressed that the family hasn't cut down the trees surrounding their home. He says that tree cover is a good first step to keeping cooling costs down in the South.
On a tour of the family home, Crawford-Brown takes note of low-flow showerheads and an energy-efficient refrigerator.
The family also tells him that they have installed a blanket around the water heater and resisted buying a larger house, and that they try to buy local food that doesn't have to be shipped over long distances.
All these steps are positive, although some count more than others, Crawford-Brown says.
About half of a typical family's carbon emissions come from heating and cooling the house. One-quarter comes from transportation. The final quarter comes from electricity usage.
So given all the things the Sheppards are doing, how much carbon dioxide are they producing?
Crawford-Brown tallies up their electricity bill, auto mileage and natural gas heating bill.
In the end, he estimates that they produce about 14 metric tons of carbon dioxide a year — enough to fill a volume of about nine hot-air balloons. And that's good: Crawford-Brown says that's 40 percent below what the average North Carolinian produces.
There is also some bad news.
The Sheppards fly several times a year: one long flight, either to see Claudia's family in Germany or to California; a short trip to see Scott's family in New Orleans; and a few work trips.
Those trips account for 12.7 metric tons of carbon emissions per year — and essentially double the amount of carbon the Sheppards put into the air.
Claudia and Scott are surprised — and dismayed by this news.
"If you have family halfway across the world, you have to see them sometime," Claudia says. "I'll make all kinds of sacrifices elsewhere. But how would I change my flying? I can't swim there, you know?"
Crawford-Brown gets this kind of reaction a lot, and he's sympathetic. His job — trying to reduce carbon emissions — involves a lot of travel.
And the Sheppards should be proud, he says. If everyone lived the way they do, he estimates the United States could reduce its carbon emissions by one-third.