Huntsville, Ala., Mayor Defends Interstate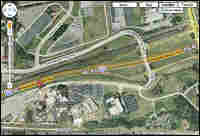 An interview on All Things Considered on Wednesday sparked a lot of e-mail and a front-page article in the Huntsville Times, in Huntsville, Ala.
At issue: a comment made by economist Russell Roberts about the value of infrastructure spending as an economic stimulus. Roberts pointed to a highway in Huntsville as an example of pork-barrel spending. He contended it was some 12 or 14 lanes wide, and there wasn't enough traffic to justify it.
Huntsville residents took issue. And Huntsville Mayor Tommy Battle says the highway, Interstate 565, is a necessary part of Huntsville and one of its economic drivers.