Returning Home Can Feel Like Demotion For Vets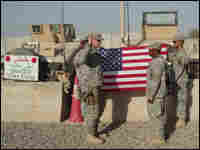 Capt. Nate Rawlings, above, has found that some of his soldiers are choosing to re-enlist rather than face an economic battle at home. Read his essay here.
With the economy crumbling, coming home is looking less bright to some soldiers. As if the unemployment rate weren't intimidating enough, young veterans face another hurdle: Many employers don't appreciate their experience.
In 2007, the unemployment rate for veterans between 18 to 24 who served in Iraq or Afghanistan was considerably higher than the rate for nonveterans, according to new statistics by the Labor Department. The fact that these figures were collected even before the job market collapsed isn't encouraging to former members of the military now looking for jobs.
Searching for work these days can feel a lot like being demoted from CEO to mailroom worker, says Jason Giarmo, 33, who served in the U.S. Army for seven years.
"I mean, you're talking about two different responsibility levels," he explains over a cup of coffee at a cafe in Chicago. "You're talking about you being solely in charge of a $15 or $20 million helicopter, and then eventually maybe even 10 of them. Then you go from that to really nothing. It's kind of difficult."
When Giarmo returned to the United States seven years ago, he found work as a construction manger. It's a natural field for some military personnel, but now it has pretty much dried up, he explains. And because of money, Giarmo, his wife and two kids recently moved back in with his mother- and father-in-law in Michigan.
Giarmo says he credits the military for his strong work ethic.
"Those are tools that I take on everything I do," he says.
But if veterans don't get jobs, their prized tools can start to feel useless. Over a beer at a billiard hall in Darien, Ill., 29-year-old Dean Kinzer says employers don't seem to understand how his experience is relevant.
"A lot of times employers will avoid the subject," he says. "I don't feel liked it's really helped me out at all. ... I mean, I thought it would."
Kinzer served in the Army for nearly four years, including a tour in Iraq. But when he returned home, he says he felt unappreciated.
"Not only did the people lose taste for the war ... but the patriotism, the people with their yellow [ribbon] bumper stickers and all that has gone away. So, you kind of feel empty."
Kinzer went to college after he got out of the Army — a big chunk of it paid for by the GI Bill. He's been looking for a job since October, living with his sister and working for the company she manages.
He makes $11 an hour and doesn't get benefits, which makes paying the $1,500 a month in bills and child support that he owes extremely difficult.
"It's been demeaning and humiliating. Nobody likes to ask for money, and I've had to do that a lot."
In spite of his frustrations, Kinzer says he'd enlist again if he had to do it over, because he says it helped make him a better leader. And despite the struggles, he says he's still optimistic about the future. His dream is to one day run a company.
Adriene Hill reports for Chicago Public Radio.