House Approves Economic Stimulus Package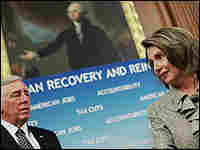 President Obama's Statement
Last year, America lost 2.6 million jobs. On Monday alone, we learned that some of our biggest employers plan to cut another 55,000. This is a wake-up call to Washington that the American people need us to act and act immediately.
That is why I am grateful to the House of Representatives for moving the American Recovery and Reinvestment plan forward today. There are many numbers in this plan. It will double our capacity to generate renewable energy. It will lower the cost of health care by billions and improve its quality. It will modernize thousands of classrooms and send more kids to college. And it will put billions of dollars in immediate tax relief into the pockets of working families.
But out of all these numbers, there is one that matters most to me: This recovery plan will save or create more than 3 million new jobs over the next few years.
I can also promise that my administration will administer this recovery plan with a level of transparency and accountability never before seen in Washington. Once it is passed, every American will be able to go the Web site recovery.gov and see how and where their money is being spent.
The plan now moves to the Senate, and I hope that we can continue to strengthen this plan before it gets to my desk. But what we can't do is drag our feet or allow the same partisan differences to get in our way. We must move swiftly and boldly to put Americans back to work, and that is exactly what this plan begins to do.
The Democratic-controlled House approved an $819 billion economic stimulus package seen as critical to President Barack Obama's plan to revive the economy. But no Republicans voted in favor of the bill and changes are likely as the bill moves to the Senate.
Hours before Wednesday's vote, Obama said the nation did not have "a moment to spare" and that swift action was needed to aid the nation's economy.
Many top Republicans remain leery of the measure's more than $500 billion in spending and believe the tax cuts it includes are insufficient. The final vote was 244-188.
After some recalculations, the package — initially estimated at $825 billion — was fixed at $819 billion, including $3 billion added for mass transit by House Democrats.
Obama released a statement citing various benefits of the package, from increasing capacity for renewable energy to lowering health-care costs. And he repeated a prediction made in introducing the package weeks ago:
"Out of all these numbers, there is one that matters most to me," he said. "This recovery plan will save or create more than 3 million new jobs over the next few years."
In comments before and after closed-door meetings with business leaders at the White House, Obama stressed what he called the urgent need for the stimulus plan.
"The American people expect action," Obama said.
Much of the spending would be for items such as health care, jobless benefits, food stamps and other programs that benefit victims of the downturn.
House Republican Leader John Boehner has warned that Democratic spending policies would bury the next generation of Americans under "a mountain of debt." Again Wednesday, he said the plan contained too much wasteful spending.
Even so, Boehner praised Obama for meeting Tuesday with Republicans on Capitol Hill. The minority leader said the president vowed to continue to reach out to GOP leaders and recruit their ideas.
Although GOP support isn't necessary to pass the measure, Obama wants Republicans to buy into the plan as part of his broader initiative to end the partisan gridlock that gripped Washington during the Bush years.
The bill now goes to the Senate, where Democrats have already accepted a one-year extension of the alternative minimum tax fix aimed at saving primarily higher-income taxpayers about $70 billion. That would increase the Senate bill's total to about $900 billion.
Republicans have their own plan, which they say would cost about half of what Obama is proposing and create twice as many jobs — 6.2 million. The plan focuses on tax relief.
In meeting with the business leaders, Obama said he wanted to ensure that corporations fulfill responsibilities to workers and the American public.
"In the end, the answer to our economic troubles rests less in my hands, or the hands of our legislators, than it does with America's workers and the businesses that employ them," he said.